Soundscape Products
---
Active Thermal Management
.....the system designer/installers' source for innovative products designed to keep audio/video equipment and home theater installations cool....... quietly!
System 2+2
A solotion for those larger cabinets.
Same as the System 2 but with 4 fans.
Soundscape Price: $396.95 delivered*
*includes domestic delivery
System 2
A family of problem solvers from Active Thermal management......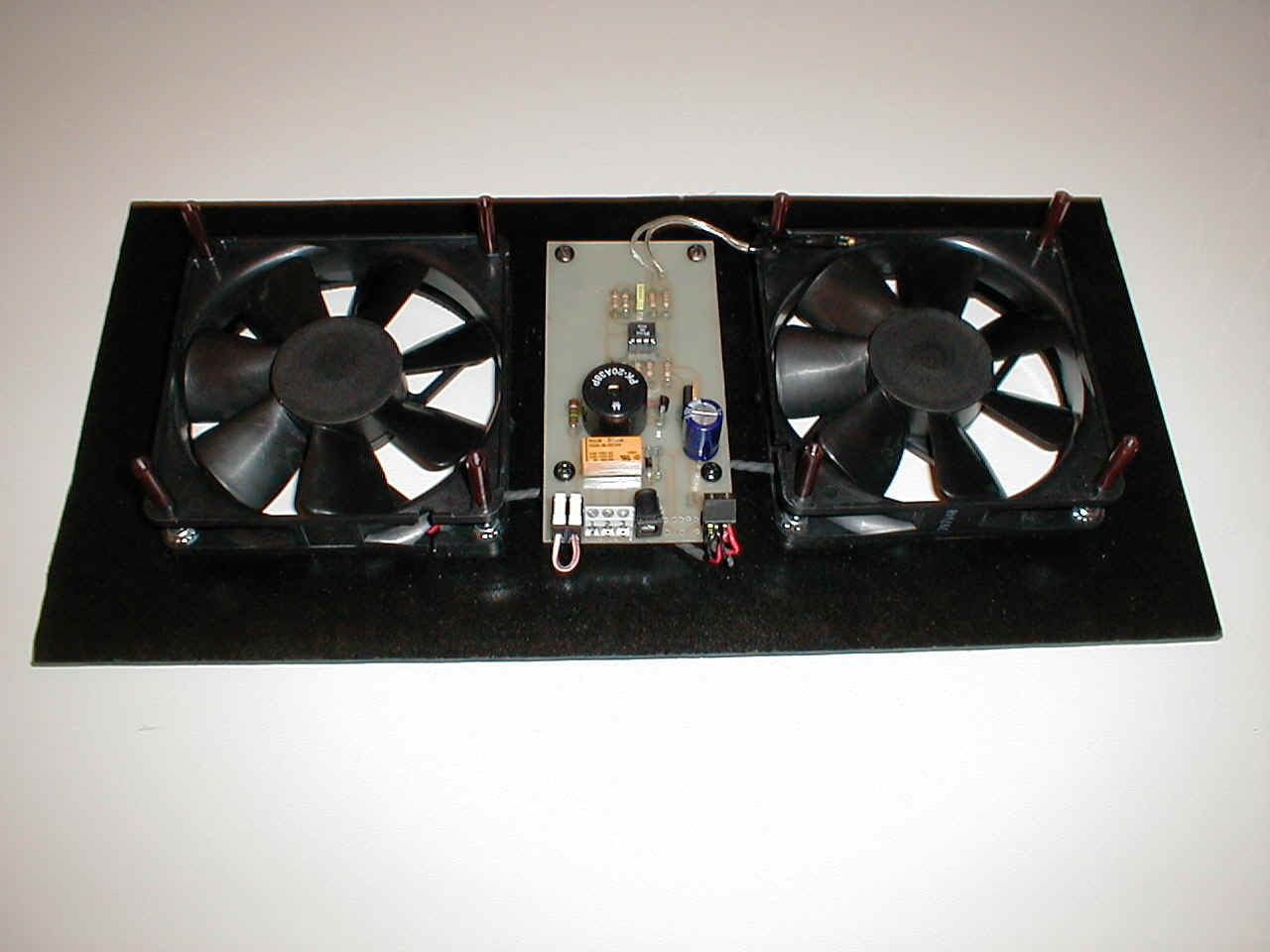 System 2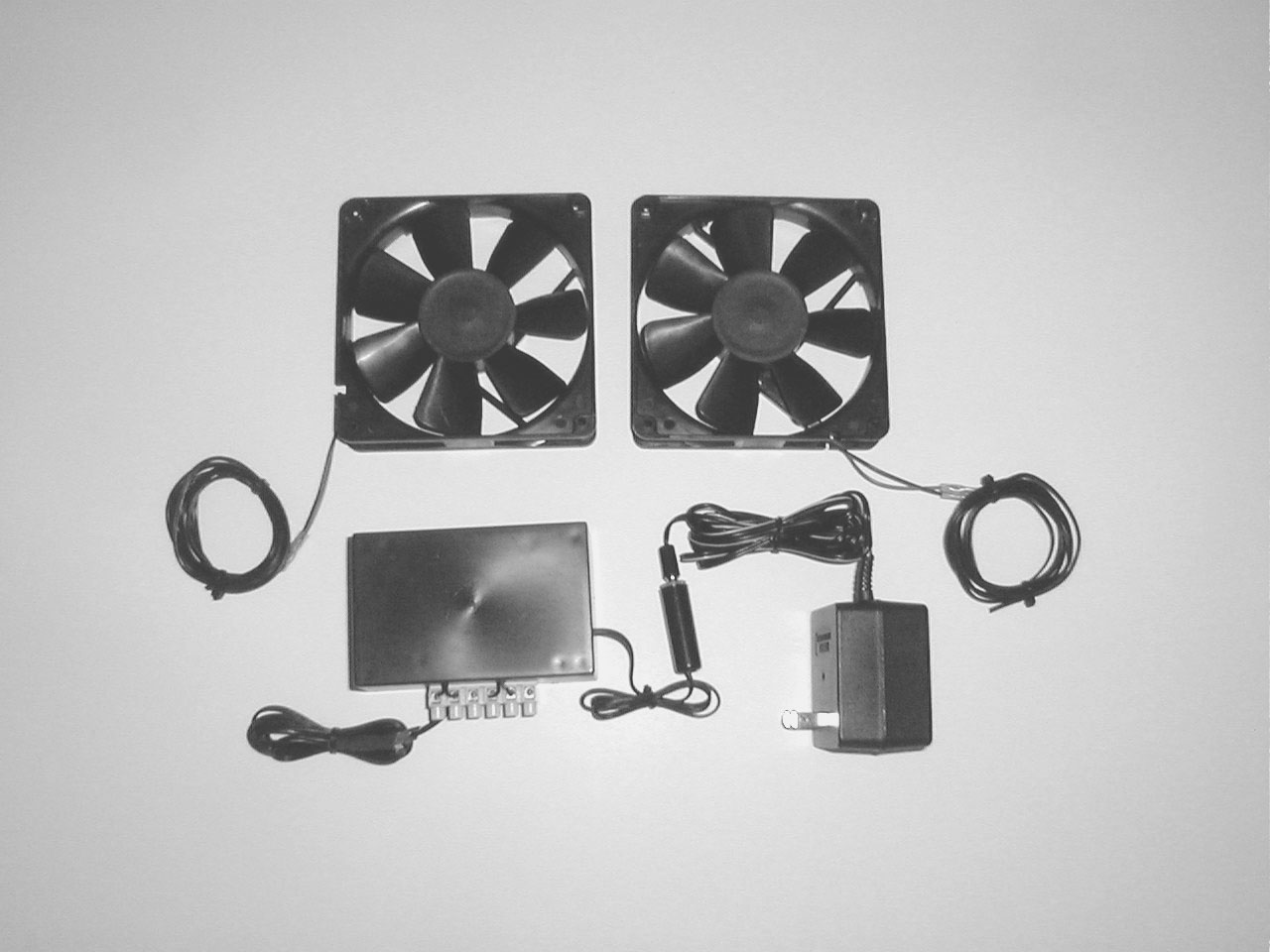 System 2 Kit
Soundscape Price: $309.95 delivered*
*includes domestic delivery
In response to requests for a ventilating system for smaller enclosures, Active Thermal Management offers the System 2, designed to be the low-cost, simple-to-install venting solution for smaller heat loads in smaller cabinets (and smaller budgets!). The System 2 is available in three formats; as a fully-assembled unit (as shown above), and in 2 modular (kit) versions.
The System 2 is comprised of either two or four 120 mm fans and control electronics. The control electronics receives information about the temperature of the equipment from thermistor probes which sense the enclosure temperature, and sends a temperature-controlled pulse-width modulated signal to the fans. At room temperature, the fans are off. As the air within the enclosure warms, they begin to turn slowly, speeding up as the enclosure warms. When the equipment is turned off, and the temperature in the enclosure falls, the fans gradually slow, stopping when all heat has been removed from the equipment and enclosure. No other controls or triggers are needed - the System 2 is fully self-controlled.
The all-in-one -- very convenient
The original System 2, with all components mounted to a common base, mounts over a 6" x 13" (approx.) opening, usually at the top rear of the enclosure, and exhausts hot air. It has a thermistor mounted to its PC board and a second on a 4' lead; the hotter thermistor controls the fans' speed.
The kits -- very flexible
If the enclosure doesn't have an appropriate mounting spot for the original System 2, use the modular System 2 Kit, which includes two pre-wired fans, grills, a "peel and stick" PWM control box, wall-type power supply, and a single thermistor on a 4' lead. Mount the fans so that the air flow passes over the hottest component(s), place the thermistor in a "hot spot", and plug it in...........
For larger enclosures, or larger heat loads, use the System 2+2 Kit. Similar to the System 2 Kit, but comes with four 120 mm fans. Both kit versions are available with 80 mm fans on special order.
Both kit forms of the System 2 are ideal for "building-in" to an enclosure at the planning stage. Have the cabinet maker install it during construction, and solve cooling problems BEFORE they start!
Specifications: Dimensions: (System 2) 16" w x 7 3/4" d x 2 1/4" h
---
Main Page
Remember ----"It isn't cool to run hot"
Factory Technical Support Information 661-294-7999 (8:00 AM to 6:00 PM PST)
Fax 661-294-1115
Factory address 4114 Aliso Street,
Acton, CA 93510
Electronic mail General Information: techinfo@activethermal.com
---
We accept



over the phone or by E-mail.
---
ORDERING ONLINE
click here!
ORDERING BY PHONE
If there is no authorized dealer in your area you can order directly from Soundscape with a 10-day, satisfaction, money-back guarantee.
(707) 578-4434
Monday - Friday 12:00 AM - 5:00 PM (PST)
---
Last Update: November 1, 2016

---


Audio & Video
8499 Old Redwood Dr.#206, Windsor, CA 95492
Phone 707- 578-4434
:marc@soundscapeav.com



E-mail Soundscape