---
Active Thermal Management
.....the system designer/installers' source for innovative products designed to keep audio/video equipment and home theater installations cool....... quietly!
Cool-sat™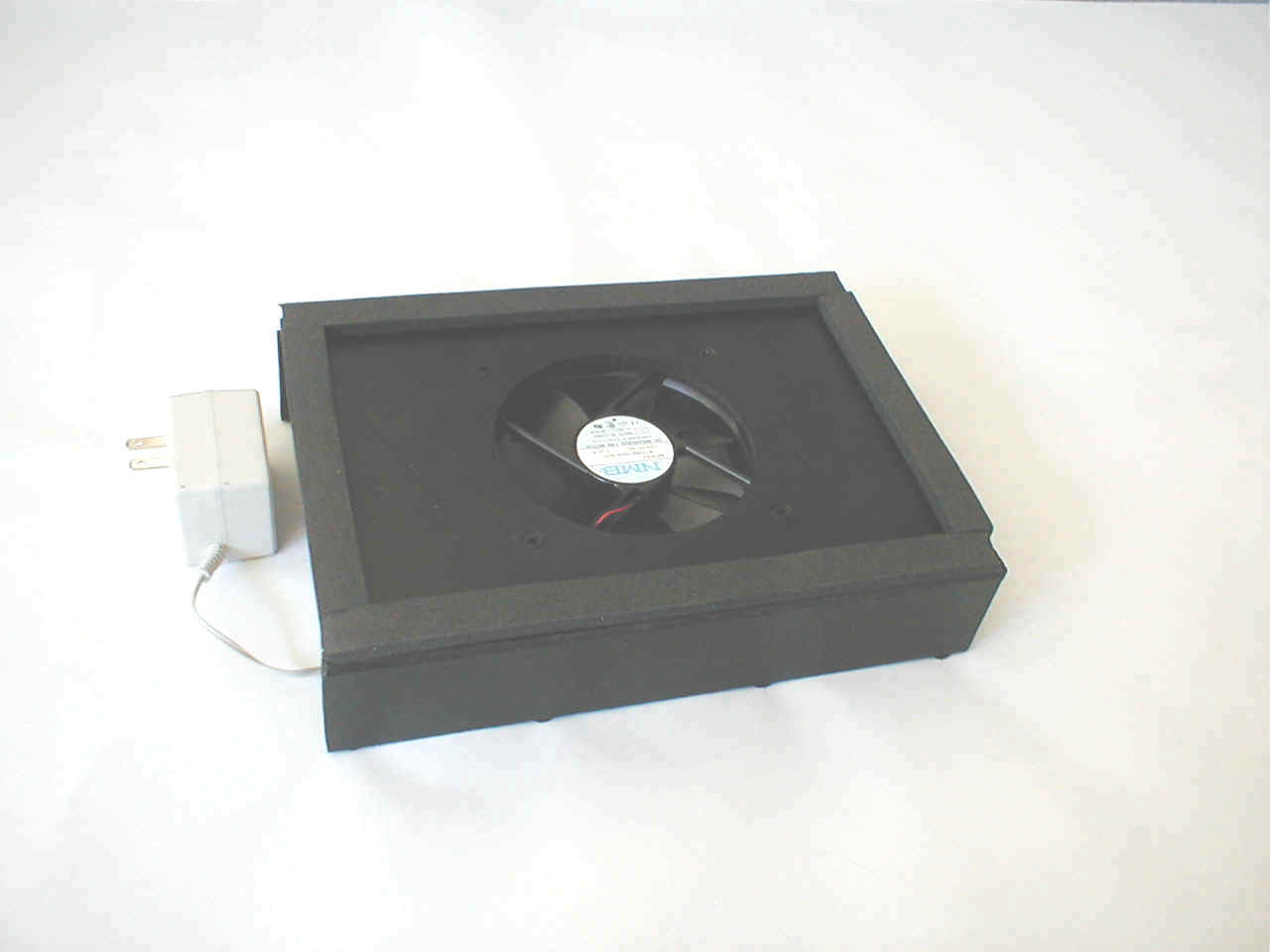 Soundscape Price: $109.95 Plus freight*
*domestic delivery $10
It's surprising, but…….
Satellite receivers, while small and typically consuming only a small number of watts, run surprisingly hot. Some have no ventilation openings on the top, and most consume significant amounts of power even when turned off. Notorious for their tendency to overheat, satellite receivers typically don't turn off completely; many remain in a heat-generating "stand-by" mode at all times. In locations with restricted ventilation, many receivers are damaged, or cause damage to their access cards.
Cool-sat is the simple, inexpensive solution; positioned under the satellite receiver (or any other small signal source with bottom cooling vents), it sends a gentle stream of air up and through the receiver, ensuring a safe operating temperature and long life. Cool-sat is almost completely silent, inaudible beyond 3 feet in typical installations, and adds only 2 1/2" to receiver height. Power consumption is less than 5 watts, making it practical to leave on at all times.
Protect your satellite receiver from life-shortening high temperatures with Cool-sat from Active Thermal Management. (For larger, TiVO-equipped receivers, see Cool-plate™; it's size makes it ideal for these larger receivers.)
Specifications: Dimensions: 11"w x 9"d x 2 1/2" h Capacity: 10 lbs max.
---
Remember ----"It isn't cool to run hot"
Factory Technical Support Information 661-294-7999 (8:00 AM to 6:00 PM PST)
Fax 661-294-1115
Factory address 4114 Aliso Street,
Acton, CA 93510
Electronic mail General Information: techinfo@activethermal.com
---
We accept



over the phone or by E-mail.
---
---
ORDERING ONLINE
click here!
ORDERING BY PHONE
If there is no authorized dealer in your area you can order directly from Soundscape..
(707) 578-4434
Monday - Friday 12:00 AM - 5:00 PM (PST)
---
Last Update: April 18, 2019
---


Audio & Video
4340 Secretariat Way, Roseville, CA 95747
Phone 707- 578-4434
:marc@soundscapeav.com



E-mail Soundscape