---
Active Thermal Management
.....the system designer/installers' source for innovative products designed to keep audio/video equipment and home theater installations cool....... quietly!
Cool Tube™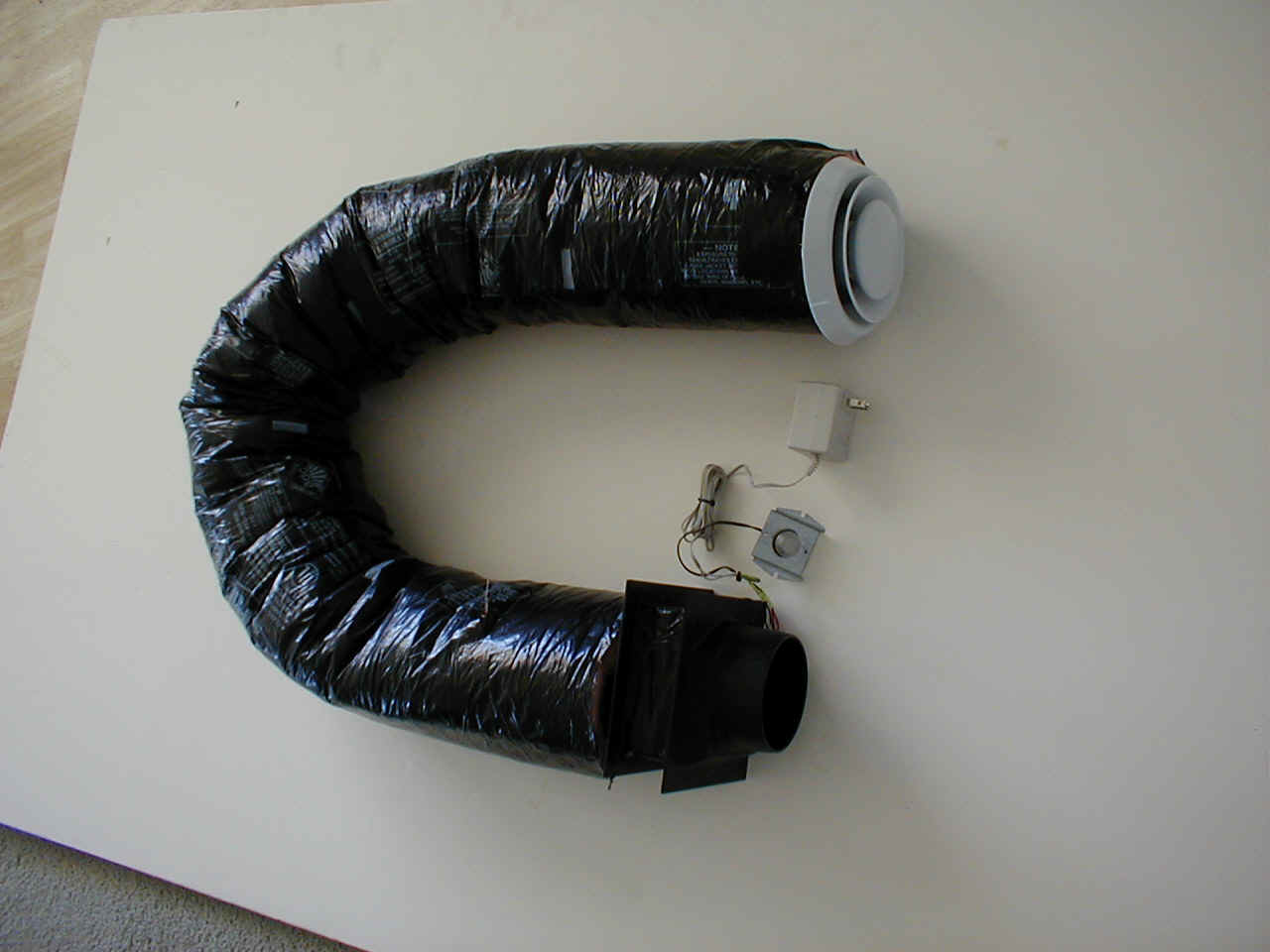 Cool-tubes (exhaust tube shown)
Soundscape Price: $499.95 delivered*
*includes domestic delivery
Cool-tubes are the easy way to restore ventilation to a video projector that's been enclosed to reduce fan noise. Many of the newer fixed-matrix video displays (D-ILA, DLP, LCD) have fans that make far too much noise to permit their use in a home theater. It's easy enough to put the projector in a box and reduce the noise, but then how does it "breathe"? Cool-tubes, consisting of an intake and an exhaust assembly, solve that problem easily. Each of two flexible tubes contains a thermostatically-controlled fan module. When the heat from the projector's lamp activates thermal switches, the exhaust assembly pushes the heated air out of the enclosure, while the intake assembly pulls room air in.
The fan modules operate almost silently, reducing projector noise significantly, typically with less than 3 degrees increase in projector operating temperature when properly installed. Both tubes exit the enclosure through attractive round diffusers. The intake and exhaust assemblies are completely separate, providing 100% redundancy in case of component failure.
Cool-tubes can be used wherever a small enclosure must be ventilated quietly, and come with comprehensive installation instructions.
Specifications: Dimensions: Intake assembly - 4" diameter tubing,
5' long Exhaust assembly - 6" diameter tubing,
5' long Fan modules - 6 1/4" square x 7" l.
---
Main Page
Remember ----"It isn't cool to run hot"
Factory Technical Support Information 661-294-7999 (8:00 AM to 6:00 PM PST)
Fax 661-294-1115
Factory address 4114 Aliso Street,
Acton, CA 93510
Electronic mail General Information: techinfo@activethermal.com
---
We accept



over the phone or by E-mail.
---
---
ORDERING ONLINE
click here!
ORDERING BY PHONE
If there is no authorized dealer in your area you can order directly from Soundscape..
(707) 578-4434
Monday - Friday 12:00 AM - 5:00 PM (PST)
---
Last Update: April 18, 2019
---


Audio & Video
4340 Secretariat Way, Roseville, CA 95747
Phone 707- 578-4434
:marc@soundscapeav.com



E-mail Soundscape