---
Active Thermal Management
.....the system designer/installers' source for innovative products designed to keep audio/video equipment and home theater installations cool....... quietly!
The Cool-Cube™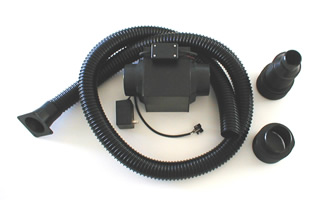 Soundscape Price: $499.95*
*domestic delivery included.
A new product, Cool-Cube, has been developed for the home theater design and installation community. Combining a compact power module with 4" flexible tubing, Cool-Cube will pull heated air out of a closed mid-size cabinet and quietly move it to a nearby closet, utility room, etc. (3" and 2" tubing is also available.)
The power module is controlled by a 2-stage thermal switch that turns the power module on at low speed at 92 degrees (F) and switches it to high speed at 102 degrees. The noise generated is very low; why trade a heat problem for a noise problem?
Cool-Cube's power module should be placed at the exhaust end of the tubing. A small flange at the suction end of the tubing is easily connected to a flat surface, such as the back of a cabinet.
Order the Cool-Cube with 4" tubing if clearance allows, or with our smaller diameter tubing for those really tight situations. (While the 4" tubing allows greater air flow, the smaller tubing will ventilate normal heat loads in typical cabinets. In all cases, you should use the largest size tubing possible.)
Specifications:
Dimensions: Tubing: 4" dia. ID (6" OD), 8' long.
Also available: 3" dia. or 2" dia. 6' long.
---
Main Page
Remember ----"It isn't cool to run hot"
Factory Technical Support Information 661-294-7999 (8:00 AM to 6:00 PM PST)
Fax 661-294-1115
Factory address 4114 Aliso Street,
Acton, CA 93510
Electronic mail General Information: techinfo@activethermal.com
---
We now offer
We accept



over the phone or by E-mail.
---
---
ORDERING ONLINE
click here!
ORDERING BY PHONE
If there is no authorized dealer in your area you can order directly from Soundscape..
(707) 578-4434
Monday - Friday 12:00 AM - 5:00 PM (PST)
---
Last Update: December 21, 2017
---


Audio & Video
4340 Secretariat Way, Roseville, CA 95747
Phone 707- 578-4434
:marc@soundscapeav.com



E-mail Soundscape