Soundscape Products
---
Active Thermal Management
.....the system designer/installers' source for innovative products designed to keep audio/video equipment and home theater installations cool....... quietly!
NEW
The System 2 Rack-Mount

Soundscape Price: $329.95 delivered*
*includes domestic delivery

It's surprising, but…….
When closed doors in front of a rack installation keep the Cool-stack from solving a heat problem, the new System 2 Rack-Mount may be the answer. Three rack units high, it's designed to be mounted high on the back panel of a rack, to quietly move heated air out. The System 2 Rack-Mount is controlled by the same proportional-control circuitry used in other members of the System 2 family— a thermally-controlled amplifier that generates a pulse-width-modulated signal that drives the fans in proportion to temperature. A temperature sensing thermistor varies the duty cycle of the amplifier's output from 0% to 100%, depending on temperature. When the enclosure temperature starts to rise. the fans begin to turn slowly. As temperatures rise, the fans turn faster, increasing in speed proportionally to the increase in temperature. When the equipment is turned off, and temperatures start to fall, the fans begin to slow, stopping when the enclosure temperature has completely cooled.
For the installer, this means no control problems—the System 2 Rack-Mount controls itself, and won't quit until temperatures fall to a safe level. For the owner, it means quiet operation and long life for his expensive home theater system.
Put a vent panel low in the rack for room air to enter, mount the System 2 Rack-Mount in the rear (or the front) of the rack, plug the wall-type power supply ("wall-wart") into an always-live AC outlet, run the 4' long thermistor lead to a "hot spot" (just above the amplifier, usually), and that's it….. The System 2 Rack-Mount is the latest quiet cooling device from Active Thermal Management.
Specifications: Dimensions: 19"w x 3"d x 5 1/4"h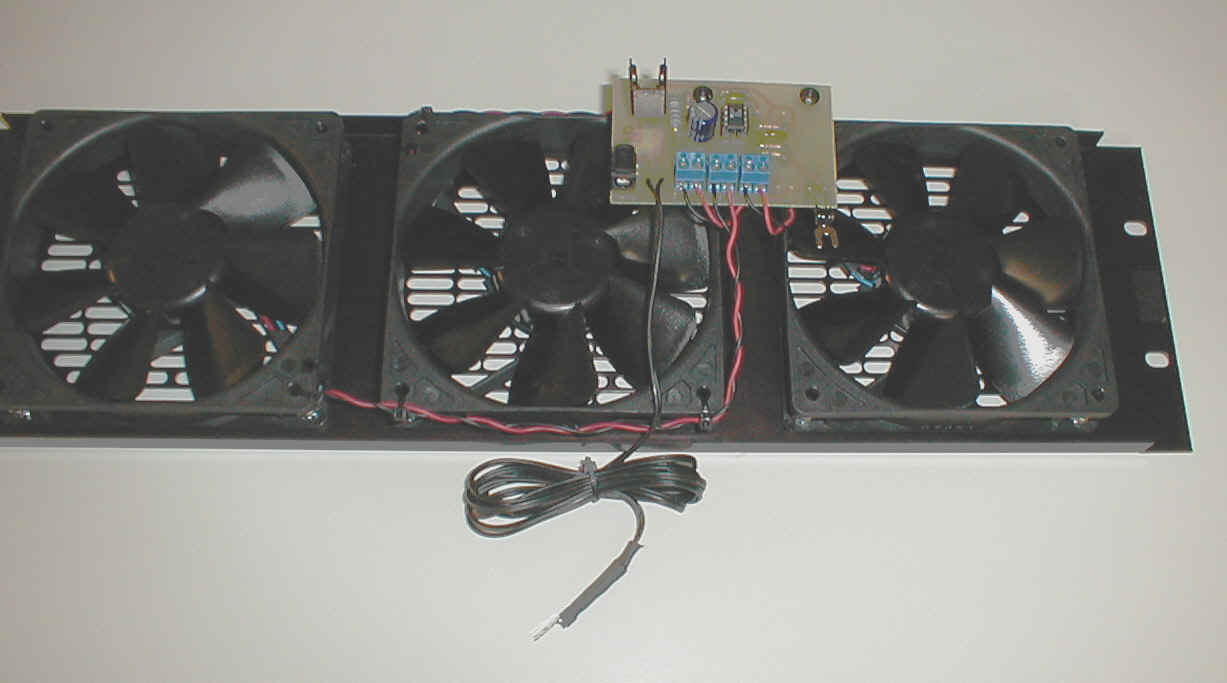 ---
Main Page
Remember ----"It isn't cool to run hot"
Factory Technical Support Information 661-294-7999 (8:00 AM to 6:00 PM PST)
Fax 661-294-1115
Factory address 4114 Aliso Street,
Acton, CA 93510
Electronic mail General Information: techinfo@activethermal.com
---
We accept



over the phone or by E-mail.
---
---
ORDERING ONLINE
click here!
ORDERING BY PHONE
If there is no authorized dealer in your area you can order directly from Soundscape..
(707) 578-4434
Monday - Friday 12:00 AM - 5:00 PM (PST)
---
Last Update: April 18, 2019
---


Audio & Video
4340 Secretariat Way, Roseville, CA 95747
Phone 707- 578-4434
:marc@soundscapeav.com



E-mail Soundscape