Soundscape Products
---
Active Thermal Management
.....the system designer/installers' source for innovative products designed to keep audio/video equipment and home theater installations cool....... quietly!
Cool-plate™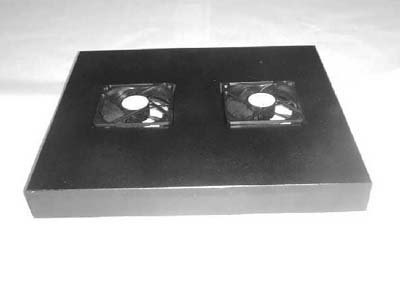 Soundscape Price: $304.95 delivered*
*includes domestic delivery

Cool-plate™ Unlike the original "on top" Cool-it™, Cool-plate hides beneath any amplifier or receiver whose heat-producing elements are centrally-located and which has ventilating openings on the bottom, such as the Madrigal HPA 2 and HPA 3. Two very quiet 120 mm fans move a stream of cooling air up through the equipment, cooling it effectively and almost completely silently. Flexible air dams (supplied but not shown) prevent air leakage around sides.
Plug it into a switched outlet, or order it with the optional 12V trigger.
Optional modules are available to provide 12 volt trigger or thermostatic control and can be added at any time.
Specifications: Dimensions: 16" w x 14" d x 2 1/2" h
---
Main Page

Factory Technical Support Information 661-294-7999 (8:00 AM to 6:00 PM PST)
Fax 661-294-1115
Factory address 4114 Aliso Street,
Acton, CA 93510
Electronic mail General Information: techinfo@activethermal.com
---
We accept



over the phone or by E-mail.
---
---
ORDERING ONLINE
click here!
ORDERING BY PHONE
If there is no authorized dealer in your area you can order directly from Soundscape..
(707) 578-4434
Monday - Friday 12:00 AM - 5:00 PM (PST)
---
Last Update: April 18, 2019
---


Audio & Video
4340 Secretariat Way, Roseville, CA 95747
Phone 707- 578-4434
:marc@soundscapeav.com



E-mail Soundscape