Soundscape Products
---
Active Thermal Management
.....the system designer/installers' source for innovative products designed to keep audio/video equipment and home theater installations cool....... quietly!
System 3
The System 3 is for smaller systems like a receiver and one or two other components in a small cabinet.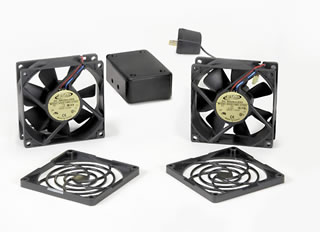 System 3
Soundscape Price: $132.95 delivered*
*includes domestic delivery
Typically, small systems do not need large volumes of air to remove the heat they generate. The System 3 moves 15 to 20 cubic feet of air per minute, and replaces the air typically twice a minute, more than enough for systems of even greater power.
When your budget is tight, the System 3 may be just the answer. It is comprised of two high-quality 3.125" fans, grilles, a plug-type power supply, a thermal switch, and a terminal strip pre-mounted in a small box for interconnections. It is easy to install, and can either be arranged to pull cool air in or push heated air out.
Specifications: Dimensions: Control Box 3"w x 1"d x 2"h Fan(s) 3.125" sq.
---
Main Page
Remember ----"It isn't cool to run hot"
Factory Technical Support Information 661-294-7999 (8:00 AM to 6:00 PM PST)
Fax 661-294-1115
Factory address 4114 Aliso Street,
Acton, CA 93510
Electronic mail General Information: techinfo@activethermal.com
---
We accept



over the phone or by E-mail.
---
---
ORDERING ONLINE
click here!
ORDERING BY PHONE
If there is no authorized dealer in your area you can order directly from Soundscape..
(707) 578-4434
Monday - Friday 12:00 AM - 5:00 PM (PST)
---
Last Update: April 18, 2019
---


Audio & Video
4340 Secretariat Way, Roseville, CA 95747
Phone 707- 578-4434
:marc@soundscapeav.com



E-mail Soundscape