---
Active Thermal Management
.....the system designer/installers' source for innovative products designed to keep audio/video equipment and home theater installations cool....... quietly!
The Cool-Base™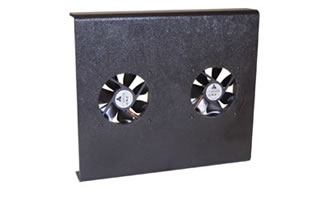 Soundscape Price: $199.95 Plus freight*
*domestic delivery $10
The newest generation of digital devices (PVRs, satellite receivers and digital receivers) may be "cool" to operate, but they're anything but cool when it comes to generating heat. And, as we all know, heat ain't cool — it's destructive if not brought down to reasonable temperatures. Added to this is the fact that many manufacturers have been steadily increasing the footprint of their equipment. This not only cramps the "breathing room" for shelves or racks holding the various pieces of equipment, but also greatly increases the temperature rise within the area. What's even worse is that even when these gadgets are "off," they are at least partially "on."
Enter the Cool-Base …a real-world solution for such conditions. The Cool-Base has two slow-turning fans that quietly send a stream of cool air through the component. Any equipment with a footprint up to 14" x 16", weighing less than 30 pounds, and with bottom vents is a candidate for Cool-Base. Cook it or cool it, the choice is yours!
Specifications:
Dimensions: 16" W x 14" D x 2-1/2" H
Capacity: 30 lbs. maximum
---
Main Page
Remember ----"It isn't cool to run hot"
Factory Technical Support Information 661-294-7999 (8:00 AM to 6:00 PM PST)
Fax 661-294-1115
Factory address 4114 Aliso Street,
Acton, CA 93510
Electronic mail General Information: techinfo@activethermal.com
---
We accept



over the phone or by E-mail.
---
---
ORDERING ONLINE
click here!
ORDERING BY PHONE
If there is no authorized dealer in your area you can order directly from Soundscape..
(707) 578-4434
Monday - Friday 12:00 AM - 5:00 PM (PST)
---
Last Update: April 18, 2019
---


Audio & Video
4340 Secretariat Way, Roseville, CA 95747
Phone 707- 578-4434
:marc@soundscapeav.com



E-mail Soundscape