Soundscape Product Listing
---
Studiotech Satellite Series
Speaker Stands
Studiotech offers the most complete line of satellite speaker stands designed for mini-speakers and surround sound systems. Studiotech satellite stands offer immediate set-up and optimal performance of mini speakers. All satellite stands are height adjustable to ensure exact placement and sound imaging.
FEATURES & BENEFITS:
Height adjustable.
Stylish designs integrate into any environment.
Includes two custom mounting systems to accommodate most mini speakers.
Unique cable management system conceals speaker cable.
Finish is durable, textured powder coat paint.
Assembles in minutes. Tools included.
Lifetime Warranty.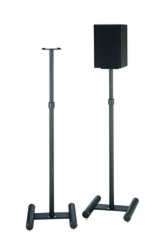 MODEL SN
The SN stands will accommodate most small to mid-size satellite speakers. The SN stands are ideal for rear channel speakers. The four point base design and adjustable carpet spikes provide excellent stability.
Supports speakers up to 15 lbs.
Height adjustable from 24" to 48".
Includes external wire clip cable management system.
Stable "H" base design can easily be weighted for added stability.
Height: 24" - 48" (adjustable)
Dimensions: (W x D) 10" x 11.5"
Top Plate Size: 4" x 4"
SN - $99.00/pair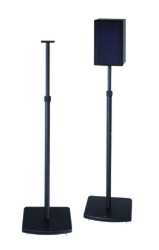 MODEL G-5
The G-5 is our lowest price satellite stand. It features a handsome wood base with an adjustable steel upright.
Supports speakers up to 10 lbs. Height
Height: adjustable from 24" to 48".
Dimensions: (W x D) 9" x 11"
Top Plate Size: 2.5" x 2.75"
G-5 Black - $69.00

---
Speaker Stands
---
---
We accept



over the phone or by E-mail.
---
ORDERING BY PHONE
If there is no authorized dealer in your area you can order directly from Soundscape.
(707) 578-4434
---
Last Update: December 21, 2017
---


Audio & Video
4340 Secretariat Way, Roseville, CA 95747
Phone 707- 578-4434
marc@soundscapeav.com



E-mail Soundscape