Soundscape Product Listing
---
Studiotech Mid-Fidelity Series
Speaker Stands
Studiotech offers a full line of stylish, high-quality speaker stands designed for the mid-fidelity enthusiast. All mid-fi stands feature carefully crafted steel and a durable powder coat finish. All stands include cable management and adjustable carpet spikes. Our mid-fi wood stands, the SW Series, are constructed using high-grade medium density fiberboard.
FEATURES AND BENEFITS:
Rigid, all steel construction (except SW).
Durable powder coat finish.
Adjustable carpet spikes for stability and isolation.
Rubber isolation bumpers are included for speaker platform.
Includes adjustable carpet spikes and cable management system.
Available in heights from 16" to 36" (height options vary by model)
Available in black only.
Assembles in minutes. Tools included.
Lifetime Warranty.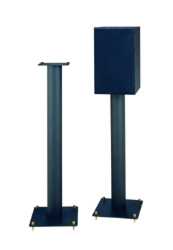 MODEL SP
Designed for heavier mid-size speakers
Elegant and stable single pillar design
Speaker wires hide inside stands tubing
Heights: 24", 30" & 36"
Dimensions: (WxD) 9" x 10"
Top Plate Size: 6" x 8"
SP-24 - $109.00/pair
SP-30 - $119.00/pair
SP-36 - $129.00/pair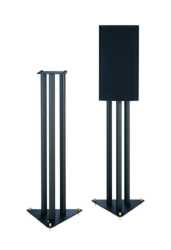 MODEL SS
Designed for mid-size speakers
Unique tri-pillar design
Heights: 16", 24" & 30"
Dimensions: (WxD)10.75" x 10.75"
Top Plate Size: 6" x 8"
SS-16 - $99.00/pair
SS-24 - $109.00/pair
SS-30 - $119.00/pair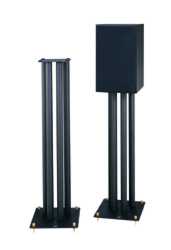 MODEL ST
Designed for small to mid-size speakers
Rigid elegant 4 pillar design
Heights: 24", 30"
Dimensions: (WxD) 9" x 10"
Top Plate Size:6" x 8"
ST-24 - $129.00/pair
ST-30 - $139.00/pair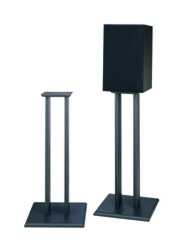 MODEL SW
Wood stands are available in black graphite lacquer paint
Designed for most bookshelf and larger speakers
Heights: 16", 24", 30"
Dimensions: (WxD) 11.25" x 11.25"
Top Plate Size: 5.75" x 5.75"
SW-16 Black - $49.00/pair
SW-24 Black - $59.00/pair
SW-30 Black - $69.00/pair


---
Speaker Stands
---
CLEARANCE SALE
We now offer 90 Days Same As Cash (SAC) 365 days a year !
Come in and ask us about it.

---
Our Business Hours are:
Monday - Friday 11am to 7pm Pacific Time
Saturday 12pm to 5pm.
We are closed on Sunday!
---
Extended Warranty
---
We accept



over the phone or by E-mail.
---
ORDERING ONLINE
click here!
ORDERING BY PHONE
If there is no authorized dealer in your area you can order directly from Soundscape with a 10-day, satisfaction, money-back guarantee.
US and Canada, 1-800-450-HIFI (1-800-450-4434)
Outside the US and Canada, (707) 578-4434
Monday - Friday 11:00 AM - 7:00 PM (PST)
Fax: (707) 578-4436
---
Last Update: December 26, 2002

---


1044 Fourth Street, Santa Rosa, CA 95404
Phone/Fax 707-578-4434 or 800-450-HIFI
marcs@sonic.net