The Rogue Ninety-Nine Preamplifier

Soundscape Price: 99 Magnum MSRP $2,495 line stage / $2995 with phono *
*including ground delivery to the lower 48 states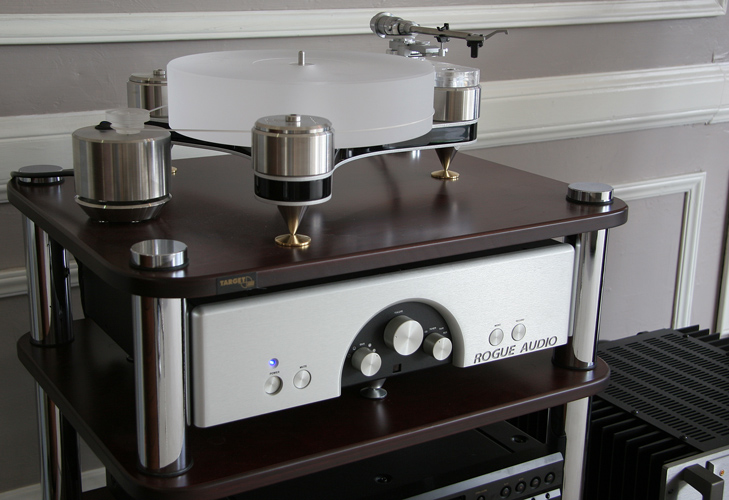 Separate power supply not shown.
---
Totally transparent yet rich with detail, the Rogue Ninety-nine preamplifier sets a new benchmark in ultra high performance audio. Designed and engineered without compromise, the Ninety-nine boasts ruler flat response, tremendous bandwidth, huge dynamic range, and vanishingly low levels of distortion. However, extraordinary test-bench specifications tell only part of the story. While tube preamplifiers are widely regarded as providing the most natural and appealing sound, the Ninety-nine preamplifier must be auditioned in person to be fully appreciated. The smooth yet detailed sound of the Ninety-nine can only be described as remarkable, with a presence that will bring your system to new heights of sonic performance.

From a technical standpoint, the Rogue Ninety-nine utilizes four 6SN7 tubes configured in a mu-follower circuit topology. An analog remote volume control enhances the listening experience without compromising sonic integrity, and a logical turn on procedure protects downstream components while prolonging tube life and performance. The massive power supply includes two filament transformers in a separate chassis, high-speed diodes, seven separate regulators and a toroidal high voltage transformer. An uncompromised "leading edge" design housed in an elegant and refined package. Truly....an intelligent indulgence.
---
General Features:
All tube mu-follower circuit topology Ultra heavy-duty gold RCA inputs
Metal remote volume control Optional mm/mc phono board
Massive fully regulated high voltage supply Precision components throughout
Mono, mute, and record functions Heavy machined aluminum faceplate
Separate power supply chassis Heavy (2 ounce) copper circuit board
Slow-start automated logical turn-on Toroidal high voltage supply
(4) 6SN7 tube complement line stage Headphone jack
Entirely designed and built in the USA 3 year limited warranty (6 months on tubes)
Magnum Features:
Larger power supply
Extensive power supply mods
Auricap coupling and output capacitors
Harmonic Technology Silver wiring (unshileded wires)
Gold Tube sockets
Upgraded NOS tube set
Additional Dale-Vishay resistors
Magnum faceplate and blue LED
---
ęCopyright 2007 Rogue Audio, Inc.
---
Extended Warranties
---
CLEARANCE SALE
---
Call for Current Pricing
---
We accept



over the phone or by E-mail.
---
ORDERING BY PHONE
If there is no authorized dealer in your area you can order directly from Soundscape.
(707) 337-3355
---
Last Update: January 2, 2018
---


Audio & Video
4340 Secretariat Way, Roseville, CA 95747
Phone 707- 337-3355
marc@soundscapeav.com



E-mail Soundscape