Soundscape Products
NEW MUSIC HALL MMF- 5.1SE
2-SPEED BELT DRIVEN TURNTABLE
includes Goldring G1012 MM Cartridge
Soundscape Price $1,095.00

The music hall mmf-5SE turntable is a 2-speed belt driven audiophile turntable employing the unique dual-plinth construction originated by music hall. The distinctive design isolates the critical sound reproducing components; platter, main bearing, tone arm, and cartridge on the top platform from the motor, switch, wiring, and feet which are mounted on the bottom platform. Sorbothane hemispheres separate the two platforms and provide vibration damping. The mmf-5/5SE comes complete with cartridge mounted.
Features: • music hall's unique dual-plinth construction • Low noise fully manual belt-drive design • Separately isolated asynchronous motor with two-speed (33/45rpm) pulley • The cartridge supplied is properly aligned and mounted • Precision stainless steel main bearing sheathed in Teflon for noise-free fluid operation • Metal screw-on record clamp • Glass platter with soft felt mat • Compliant feet and round spirit level • High quality gold RCA connectors • Dust cover and 45rpm adaptor • Excellent instruction manual and easy assembly • MMF-5SE includes all of the above plus, • Real wood walnut veneered plinth, • Sorbothane isolation, • Non-captive RCA's, • Adjustable tip-toe feet, • Goldring G1022 moving magnet cartridge ($300 value) Dimensions: W18.25 x D13.25 x H5.5 in. Weight: 24 lbs. pkg.
MUSIC HALL MMF- 5.1
2-SPEED BELT DRIVEN TURNTABLE
includes Goldring G1012 MM Cartridge
Soundscape Price $875.00 Plus freight.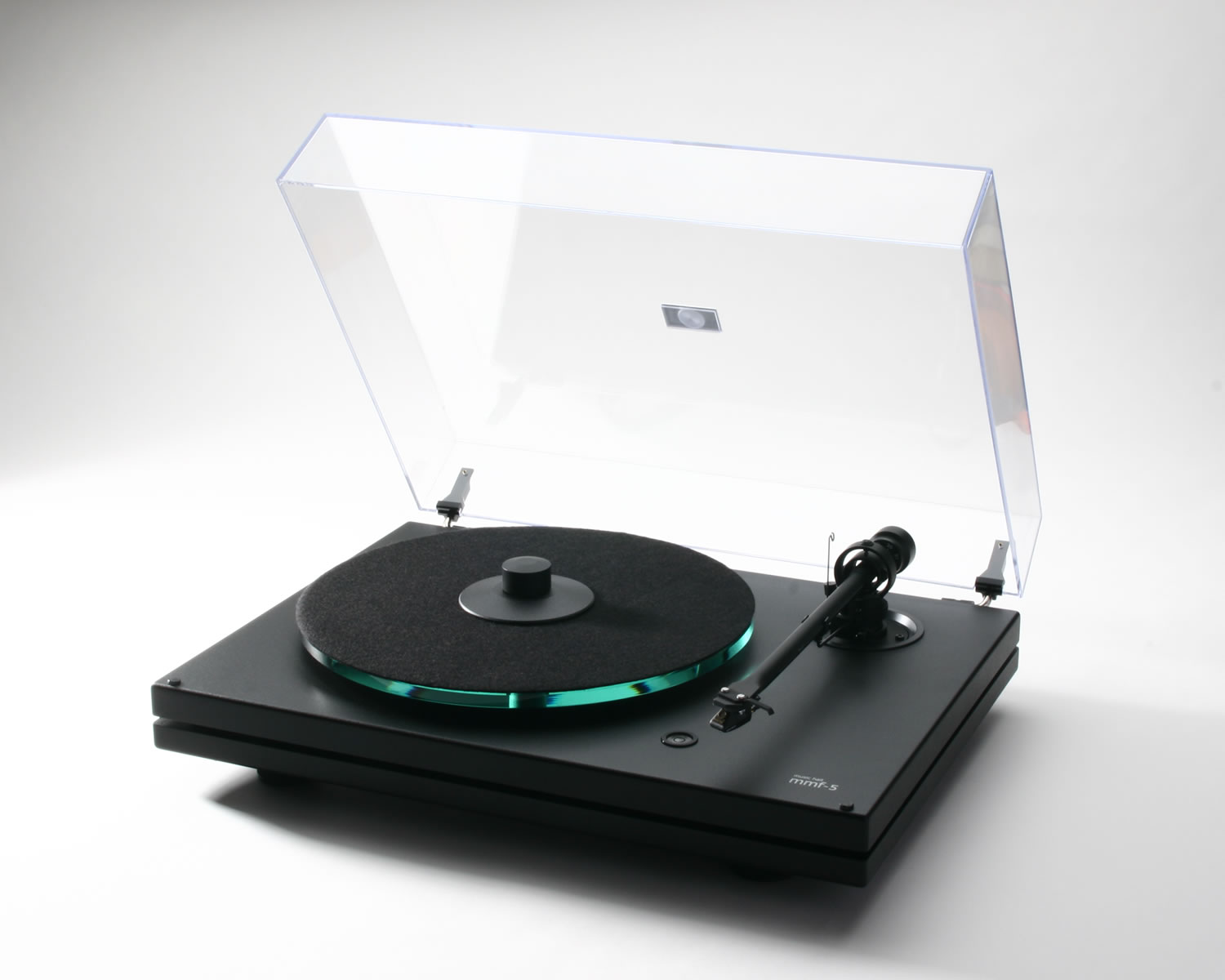 The Music Hall MMF-5 Turntable is a 2-speed, belt driven turntable with many singular features. It has an original and unique 2-plinth design with six rubber springs separating the bottom platform from the top. This gives the turntable an extra level of isolation.
The compliant feet, 2-speed synchronous motor, switch, wiring and electrical parts are on the bottom plinth while the critical sound reproducing components, the bearing, arm and cartridge are mounted on the top platform. The glass platter and felt mat sit on a high quality, stainless steel ball bearing sheathed in Teflon providing fluid and noise-free operation. The bearing assembly comes pre-charged with lubricant. A metal screw-on record clamp is standard equipment as is the round spirit level. The effective length of the tone arm is nine inches. The tone arm comes mounted with a high quality Goldring G 1012 moving magnet cartridge (a $175.00 value).
Tile Music Hall MMF-5 is easy to assemble and comes with an excellent instruction manual. spare belt and 45 rpm adapter.

CLEARANCE SALE
We now offer 90 Days Same As Cash (SAC) 365 days a year !
Come in and ask us about it.

---
Call for Pricing
---
We accept



over the phone or by E-mail.
---
ORDERING BY PHONE
If there is no authorized dealer in your area you can order directly from Soundscape.
(707) 337-3355
---
Last Update: December 25, 2017
---


Audio & Video
4340 Secretariat Way, Roseville, CA 95747
Phone 707- 337-3355
marc@soundscapeav.com



E-mail Soundscape