Who Are We?
---
Soundscape was a Northern California Hi-End audio/video specialist retailer with a 13,000 square foot location and store front in downtown Santa Rosa. We began in 1974 in Los Angeles as Northridge Audio, and in 1988 Marc Silver, the original proprietor, moved his operation to Sonoma County in Northern California,
re-opening as Soundscape (our West Hollywood location's original name). In 2005 Soundscape incorporated as Soundscape Audio & Video, Inc.
And NOW: As of May 2017 I have started my semi-retirement in Roseville, California. Because I have over 49 years experience I am here to help all my old and new customers making those important consumer electronics decisions. I am also writing for www.dagogo.com so please visit there and read my rantings.

But as they say a picture is worth a thousand words, So take a look:
Old Store Tour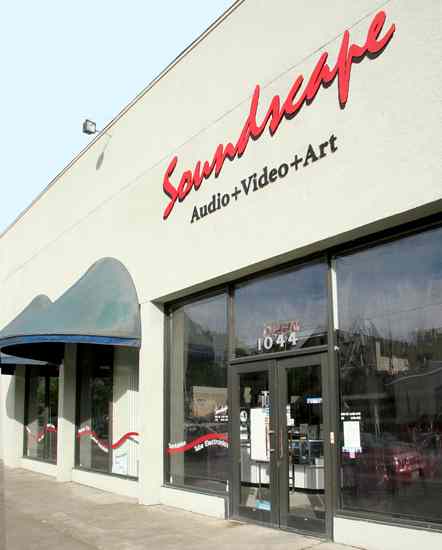 ---
Market Competition:

Soundscape is the only operation of its kind in the United States, combining Fine Art with Home Electronics. Sonoma County had only one Upscale Audio/Video Specialist, until now. Previously the majority of Upscale Audio/Video buyers have been forced to travel over 75 miles to San Francisco or the Berkeley in the East Bay for any selection of products
---
Extended Warranty
---
We accept
over the phone or by E-mail.
---
ORDERING BY PHONE
If there is no authorized dealer in your area you can order directly from Soundscape..
(707) 337-3355
Monday - Friday 12:00 AM - 5:00 PM (PST)
---
Last Update: December 21, 2017
---


Audio & Video
4340 Secretariat Way, Roseville, CA 95747
Phone 707- 337-3355
:marc@soundscapeav.com



E-mail Soundscape