Soundscape Products

Their new website is: http://www.genesisloudspeakers.com/
---
Genesis ServoSub™ 4/8
The Genesis ServoSub™ 4/8 is an exceptional subwoofer with four ultra-fast 8-inch ribbed aluminum-cone woofers and an integral 500W servo-controlled amplifier.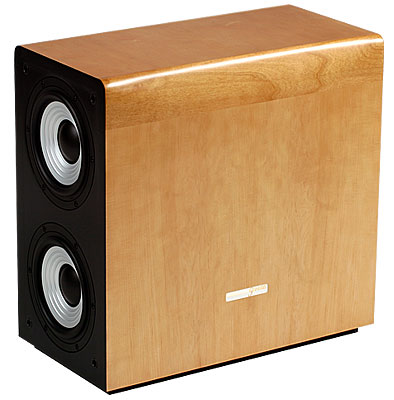 The Genesis ServoSub™ 4/8
European Maple Crown Rosewood - CALL
High Gloss Automotive finish - CALL

TECHNOLOGY IN THE SERVICE OF SOUND
The hallmarks of the S4/8 are speed, delicacy, and articulation. Yet, it is capable of sonically portraying the most earth-shaking events in a home theater application.
When used to complement the Genesis 6.1c Center Channel, or any other center channel speaker for that matter, it adds "body" to the voice channel for home theater applications. Its unique form factor means that it can be used as a pedestal for placing a center channel speaker below a plasma TV, or behind a projection screen. The S4/8 is an excellent match to panel and electrostatic loudspeakers, adding the vital bass foundation to bass- shy models.
Rated AAAA by Stereophile Guide to Home Theater 2004!
THE SERVO ADVANTAGE
The S4/8 adds the latest iteration of a technology refined by Genesis and long acknowledged by critical listeners as essential to accurate bass reproduction, Servo-control. A precise yet lightweight accelerometer on each driver continuously monitors motion and sends a signal to high speed circuitry that compares actual cone movement to the input signal. The comparison circuit instantly identifies any deviation from ideal response and instantaneously adds a corrective signal to compensate for any deviation from the input signal even when they include complex, rapidly evolving musical bass lines or artificial effects created to enhance your viewing pleasure. The S4/8 technology guarantees earth-shaking bass coupled with stunning articulation.
POWER FOR TOTAL CONTROL
There are times when finesse requires brute force. The S4/8's proprietary and ultra-efficient GSAT discrete MOSFET switching amplifier is a prime example of power's intelligent application in the service of sonic subtlety. With output capability up to a full kilowatt, the S4/8's Class D design provides extraordinary control and exceptional thermal stability even when playing the most demanding sources continuously at high volume.
THE CRUCIAL INTERFACE
Perhaps the greatest impediment to fully enjoying a subwoofer's contribution with both music and film sources lies in how the woofer system mates with a variety of wide range loudspeakers. The S4/8 accomplishes this task with ease. A fully adjustable low pass filter and volume control allows precise selection of optimum settings for level matching and accurate integration with any music or home theater system.
SPECIFICATIONS:
Frequency Response 20Hz to 140Hz, ±3 dB

Amplifier Power Rating 500 watts RMS

LF Transducers Four 8" ribbed aluminum cone

Controls Low Pass, Bass gain, LFE gain, Phase Invert

Inputs High-level with 5-way binding posts

Preamp level unbalanced RCA and balanced XLR LFE unbalanced RCA and balanced XLR

Input Impedance 33K ohms

Outputs LFE daisy-chain unbalanced RCA and balanced XLR

Dimensions H 21 ˝ " x W 22 ˝ " x D 11 ˝ " H 550mm x W 570mm x D 295mm

Weight 83.5 lbs (38 kg)

Finish Options Maple Rosewood High Gloss Automotive
---

You can call us for free from anywhere in the USA!
Our Business Hours are:
Monday - Friday 11am to 7pm Pacific Time
Saturday 12pm to 5pm.
We are closed on Sunday!
---
We accept



over the phone or by E-mail.
---
ORDERING ONLINE
click here!
ORDERING BY PHONE
If there is no authorized dealer in your area you can order directly from Soundscape with a 10-day, satisfaction, money-back guarantee.
US and Canada, 1-800-450-HIFI (1-800-450-4434)
Outside the US and Canada, (707) 578-4434
Monday - Friday 11:00 AM - 7:00 PM (PST)
Fax: (707) 578-4436
---
EXTENDED WARRANTY INFORMATION
---
CLEARANCE SALE
We now offer 90 Days Same As Cash (SAC) 365 days a year
Come in and ask us about it.

---
Last Update: February 19, 2008
---


1044 Fourth Street, Santa Rosa, CA 95404
Phone/Fax 707-578-4434 or 800-450-HIFI
marcs@sonic.net