Soundscape Product Listing
---

Vincent
Integrated Amplifier SV-238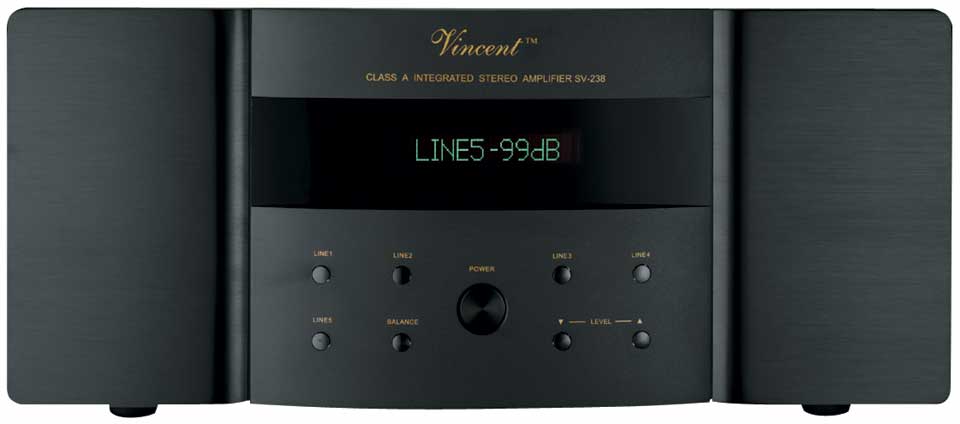 Soundscape Price:$4,499.95
2 x 200 W into 8 Ohms, 2 x 400 W into 4 Ohm and more than 700 W into 2 Ohm - these are the impressive specifications of this amplifier. A sheer power plant which has been combined with many specialities of high-end technology. Integrated circuits by Crystal are taking care of the low-level signals.
Tone controls are of the electronic variety - supervised by a CPU. This means there will be neither any mechanical distortions nor any wear-off. Apart from that, the SV 238 is able to deliver 2 x 60W into 8 Ohms in Class-A mode of operation, which is automatically switched to AB mode if higher power is needed.
Technical Details
Frequency range: 20 Hz - 20 kHz +/- 0.5 dB
Nominal output power Class-A 8 Ohm: 2 x 60 Watt RMS
Nominal output power RMS 2 Ohm: 2 x 700 Watt
Nominal output power RMS 4 Ohm: 2 x 400 Watt
Nominal output power RMS 8 Ohm: 2 x 200 Watt
Input sensitivity: 250 mV
Total harmonic distortion: < 0.1 % max. (1 kHz, 1 Watt)
Signal-to-Noise Ratio: > 95 dB
Input Impedance: 47 kOhm
Inputs: 5 x RCA and XLR
Outputs: Pre Out 1 x RCA und XLR 4 x 2 speaker terminals
Mains supply: 230 V/50 Hz Dimensions (W x H x D): 430 x 180 x 530 mm
Weight: 32 kg
Colour: black/silver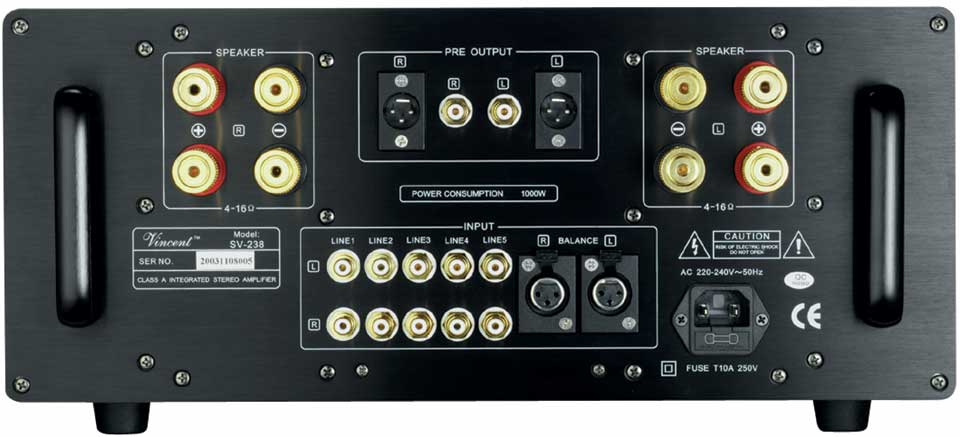 ---
Extended Warranties Available!
---
Last Updated: June 12, 2006



ORDERING ONLINE
click here!
ORDERING BY PHONE

If there is no authorized dealer in your area you can order directly from Soundscape.

US and Canada, 1-800-450-HIFI (1-800-450-4434)

Outside the US and Canada, (707) 578-4434

Monday - Friday 11:00 AM - 7:00 PM (PST)

Fax: (707) 578-4436
---
---


1044 Fourth Street, Santa Rosa, CA 95404
Phone/Fax 707-578-4434 or 800-450-HIFI
marcs@sonic.net