Soundscape Product Listing
---
A-FRAME SPEAKER
Now you can connect your Bluetooth-enabled device (as well as play passive stereo through the 3.5mm audio jack) through a high fidelity TruAudio speaker system cleverly housed in your favorite piece of art.

Choose from the aFrame gallery of professional graphic art, photography or limited edition artwork - or submit your own image or artwork to create a personal aFrame. Your aFrame cover will be printed on an acoustically transparent material using inks that are non-toxic, non-allergenic and reproduce exceptionally bright hues for any type of artwork.

The aFrame is fueled by two TruAudio 5.25" glass fiber woofers and two TruAudio 5.25" glass fiber midranges for greater output. The rigid, long-throw cones and ported motor assemblies allow the drivers to deliver good separation and a rich, full sound.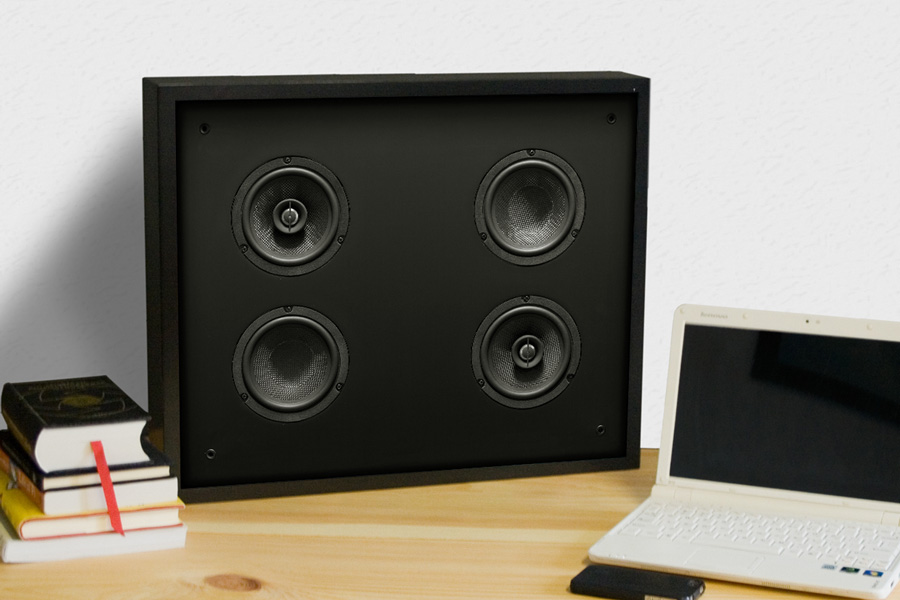 The aFrame also sports two TruAudio 1" titanium tweeters. Titanium allows the tweeter to be played at higher volumes without the listener experiencing ear fatigue. The aFrame amplifier is a digital, crystal clear 40 Watt RMS Class D amplifier with an A2DP Bluetooth Receiver.
aFrame Wireless Art Speaker System
Lifelike, room-filling stereo sound framed and covered with your favorite art or photo
Easily play your personal music collections or Internet Radio from your iPod® andBluetooth® devices like Smartphone's, computers or tablets
High-fidelity TruAudio stereo with four Glass Fiber 5.5" Drivers and Two 1" Titanium Tweeters
40 Watts RMS Amplified Power playing true Stereo Sound
Easy installation & Interchangeable Art
Connects to TV's, CD or Record players through the easy-to-use auxiliary input
Mounts in both Portrait and Landscape orientations
Starting at $599.00
Custom aFrame
Image Resolution requirements:
Art or Photo print 16x20 = 3200 X 4000 ppi with full edge-to-edge printing. A picture matt can be added of 2-4" on all sides to lower resolution requirements and photo/art size. Contact us for more specifics and custom matting.
Upload your custom print below
Each aFrame is shipped in Matte Black - For custom colors and sizes please email us at marc@soundscapeav.com

aFrames can be placed on any flat surface or hung on the wall in both portrait and landscape orientations

Please allow 5-7 business days to ship your aFrame
---
US and Canada, 1-800-450-HIFI (1-800-450-4434)
Outside the US and Canada, (707) 578-4434
Monday - Friday 11:00 AM - 7:00 PM (PST) W
Fax: (707) 578-4436
---
Last Update: May 12, 2013

---


1044 Fourth Street, Santa Rosa, CA 95404
Phone/707-578-4434 or 800-450-HIFI
marcs@sonic.net