Soundscape Product Listing
---
S U M I K 0
---
Pro-Ject Turntables

Pro-Ject Debut III Multicolor
Soundscape Price $379
Same features and specifications as Pro-Ject Debut III but with plinth available in your choice of nine different colors.

Please specify BLUE, YELLOW, GREEN, PIANO GLOSS BLACK,
RED, SILVER, GLOSS WHITE OR CHAMPAGNE.


Not all colors shown
The Pro-Ject Debut includes a pre-mounted Ortofon OM-5E moving magnet phono cartridge and is an excellent choice for the audiophile seeking a cost effective vinyl playback solution. A felt-covered steel platter mates to a chrome plated stainless-steel axle running in a brass bearing housing for exceptional speed stability and accuracy. The aluminum tonearm employs inverted hardened stainless-steel points for superior tracking with the supplied phono cartridge. A silicone-damped armlift is supplied.
NEW! Debut III USB
Same as the standard Debut II but with MM phono preamp built in and Analog to Digital converter with USB output.
Soundscape Price $499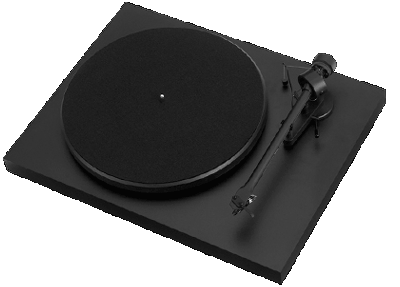 in Matt Black Soundscape Price $349
Steel platter with felt mat and low-tolerance chrome plated stainless-steel axle runs on a polished ball bearing in a brass bearing housing
Motor decoupled to reduce vibration
Tonearm bearing comprises inverted hardened stainless-steel points
Pro-Ject Debut III Features: Supplied with Ortofon OM 5E cartridge fitted Available in matt black, glossy black, glossy white, silver, red, yellow, blue, green and champagne Dust cover

Pro-Ject Debut III Technical Data:
Dust cover yes
Counterweight fixed
Fitted cartridge Ortofon OM 5E
Nominal speeds 33,33/45,11 r.p.m.
Speed variance ±0,8 %
Wow and flutter ±0,12 %
Signal to noise -65dB
Downforce range 10 - 30mN
Effective tonearm length 8,6 " (218,5mm)
Effective tonearm mass 9,5g
Overhang 18,5mm
Platter weight/diameter 1,3kg/280mm
Dimensions (lid open) 370 x 415 x 400mm
Dimensions (lid closed) 118 x 415 x 320mm
Weight with lid 5,5kg
Mains power supply 220 - 240V, 50 cycles or 100 - 110V, 60 cycles
Power consumption 2W

---
Sumiko
2431 Fifth Street
Berkeley, CA 94710
Phone: 510-843-4500
Fax: 510-843-7120
Office Hours 8:00am-5:00pm Pacific Time
---
---
We accept

over the phone or by E-mail.
---
ORDERING ONLINE
click here!
ORDERING BY PHONE
If there is no authorized dealer in your area you can order directly from Soundscape with a 10-day, satisfaction, money-back guarantee.
US and Canada, 1-800-450-HIFI (1-800-450-4434)
Outside the US and Canada, (707) 578-4434
Monday - Friday 11:00 AM - 7:00 PM (PST)
Fax: (707) 578-4436
---
Last Update: June 10, 2008
---


1044 Fourth Street, Santa Rosa, CA 95404
Phone/707-578-4434 or 800-450-HIFI
marcs@sonic.net