Soundscape Product Listing
---
S U M I K 0
---
Sumiko BLACKBIRD Cartridge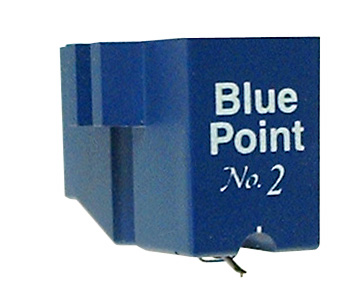 Soundscape Price $299*
*Including domestic freight
Offering exceptional performance and musicality at an affordable price the latest generation Blue Point No. 2 sets a new standard in its price class.
Moving coil design, high output, 2.5-mV, alloy cantilever, Blue Point-cut elliptical diamond stylus, and standard 1/2" mounting.
Specifications:
Cartridge Type High output MC
Frequency Response 15Hz-35KHz
Output Voltage/Channel 2.5mV
Channel Separation 32dB
Channel Balance 0.5dB
Compliance (x10-6 cm/dyne) 15
Stylus Size/Shape .3x.7/Elliptical
Load Impedance 47k Ohms
Tracking Force Range 1.6-2.0 grams
Recommended Force 1.8 grams
Cartridge Weight 6.3 grams
---
Sumiko
2431 Fifth Street
Berkeley, CA 94710
Phone: 510-843-4500
Fax: 510-843-7120
Office Hours 8:00am-5:00pm Pacific Time
---
---
We accept

over the phone or by E-mail.
---
ORDERING ONLINE
click here!
ORDERING BY PHONE
If there is no authorized dealer in your area you can order directly from Soundscape with a 10-day, satisfaction, money-back guarantee.
US and Canada, 1-800-450-HIFI (1-800-450-4434)
Outside the US and Canada, (707) 578-4434
Monday - Friday 11:00 AM - 7:00 PM (PST)
Fax: (707) 578-4436
---
Last Update: March 9, 2006
---


1044 Fourth Street, Santa Rosa, CA 95404
Phone/707-578-4434 or 800-450-HIFI
marcs@sonic.net