Soundscape Product Listing
---

Sanus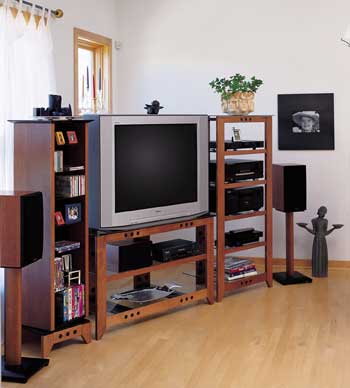 ---
What are your requirements for audio furniture?
Fine furniture design? Rigid structural stability? Audiophile performance?
You can enjoy it all when you choose Sanus audio furniture.
The Sanus Audio Rack family includes seven beautifully functional lines to match any décor and budget.
Component Audio Furniture


CF5 5 Shelf Steel Audio Rack w/Black Lacquer Trim, 20"x20"x45"
$569.99 + Freight

Natural Audio Furniture

NF204 Audio Stand in Natural Maple, Cherry or Black, 4 Shelf unit
$329.99 + Freight

NF206 6 shelf unit
$379.99 + Freight

Euro Audio Furniture

Modular 4 Audio Shelves
w/Silver or Black Pillars,
$269.96 + Freight
Add 10% for wood or Glass shelves.

Platinum Audio Furniture

PFBS Platinum Audio Stand,
56" 6 Shelf Rack,
$379.99 + Freight

Matching PFAV Platinum A/V Stand
$299.99 + Freight

Woodbrook Furniture Mini

WFS5 Single Wide 5 shelf
in Maple or Cherry
$799.99 + Freight

WFD3 Double Wide 3 shelf
$849.99 + Freight

Accurate Audio Furniture

AFAb Black Accurate Audio Stand $169.99 + Freight

AFAg Glass Accurate Audio Stand
$219.99 + Freight

VMPLs


32" - 60" Monitor
175 lbs.
32" x 3" x 20"
+/- 15º tilt.

Solid heavy-gauge steel construction Durable powder-coated finish (black or silver) Patent pending Virtual Axis system provides smooth tilt motion even when supporting heavy loads and TV stays in position at any angle Fits most large flat panel plasma and LCD TVs Supports up to 175 lbs. Available in black or silver finish Easy to install Mounting hardware included

$249.99 + Freight

System Furniture


AFMini II Mini System Stand
Dimensions 35"x30.25"x12"
Equipment Platform 15"x12"
Speaker Shelves 10"x10"
$89.99 + Freight

VM3


up to 20" LCD Monitor
30 lbs capacity
4.5" x 14.5" x 6"
+/- 30º Tilt

$149.99 + Freight
Freight is additional on all Stands!
---
Extended Warranty
---
We accept



over the phone or by E-mail.
---
ORDERING BY PHONE
If there is no authorized dealer in your area you can order directly from Soundscape.
(707) 578-4434
---
Last Update: December 21, 2017
---


Audio & Video
4340 Secretariat Way, Roseville, CA 95747
Phone 707- 578-4434
marc@soundscapeav.com



E-mail Soundscape