Soundscape Product Information
---
Plasma Display Wall Mounts
Don't forget to dress your Plasma or LCD with Custom Frames from


---

The latest from Vantage Point. A One Person Install!
Soundscape Price: $399
FREE DOMESTIC DELIVERY
It starts with mounting the manageable lightweight aluminum rail to the wall, easily hanging the monitor onto the rail without having to pre-connect any wiring and finally folding the monitor down to complete the installation and wiring with an ease that only the UFO can offer.

One is all you will need! The UFO's unique design adjusts for various wall stud spacing, offers lateral positioning of both the rail and monitor and will attach to monitor hole patterns ranging from VESA 200mm to large 50" plasmas. Forward tilt ranges from 0 to 90 degrees, the greatest range on the market today.

There can only be one! The patent pending Universal Flat-Panel One's refined engineering creates a slim 2 3/8" gap between the wall and the back of the monitor, closer than other mounts that provide tilt! The quality of materials, design and function of this product clearly put it in a class of its own.
• Easy installation.
• -3° to 90° flip down allows for ease of wiring.
• Fits 200mm VESApattern LCDs.
• Designed for large plasma displays
• Easy left to right monitor positioning during installation.
• Wall brackets accomodate any stud spacing.
• Available in Silver or Black
---
PREMIER MOUNTS
Finally there is a way to have a Swing-out Mount that allows your LCD or Plasma fit fit up against the wall.
These two recessed mounts from Premier help hold the display safely and securely while allowing for a sleek, finished look. INW-AM200 In-Wall Box for AM2 Swingout Arm for 17" - 40" LCD displays
Soundscape Price $199*
INW-AM325 In-Wall Box for AM250 and AM3 Swingout Arms for 37" - 61" displays
Soundscape Price $299*
Cable routing through knockouts
Drop-in power/signal boxes for easy wiring
Integrated PEM-Nut hardware
Frame allows for a finished look
Integrated electrical cable raceways
No mount assembly required
Available in white
*Plus Freight
---
Coming Soon
Plasma & LCD Lifts

---
ProMounts UA-PRO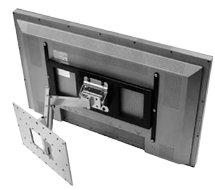 The ProMounts cantilever mounts are stunning pieces of engineering, and are the most flexible mounts for flat panel displays. The cantilever mounts offer maximum adjustability, including horizontal extension, 180º of lateral rotation, as well as full swivel and tilt capabilities. More than just mounting hardware, these cantilever mounts have a tactile quality that enhances the high technology aspects of any flat panel installation.
Retail: $699
Soundscape Price: $559 each
Free Freight
In Stock for fast delivery!
KEY FEATURES:
150-lb. maximum
Size compatibility 37"-55"
Cantilever arm mount for plasma panels Allows maximum flexibility for installing and viewing your plasma display Arm allows extension and 180° lateral rotation for viewing from multiple locations Allows tilt and swivel for optimum viewing
Durable powder coat finish Available in silver

---
ProMounts UT-PRO3
37''-63'' Flat Panel Tilt Mount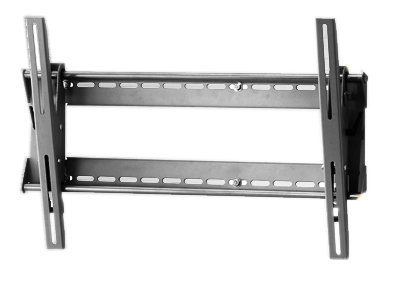 The ProMounts tilt mounts allow for the use of security hardware, and provide simplicity of installation combined with enough tilt capability to optimize viewing for any flat panel display. The UT-PRO3 allows the mounting of plasma displays of up to 63" in size and 200 lbs in weight, while introducing several key features that take the UT-PRO3 a significant step forward in plasma panel mounting.
Retail: $299
Soundscape Price: $249 each
Free Freight
In Stock for fast delivery!
KEY FEATURES:
32" to 63" display mounting capability.
Load capacity up to 200lbs
Extendable for large displays via included horizontal and vertical extension rails
Lift n' Lock Installation™ feature
---
ProMounts UF-PRO
37''-63'' Flat Panel Mount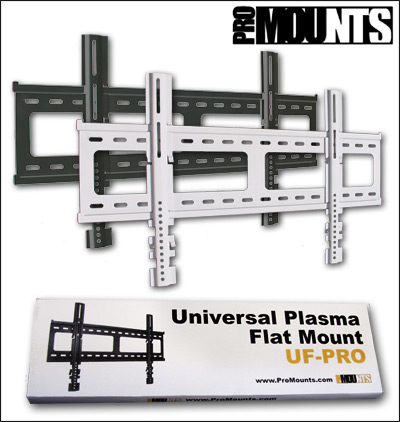 The FLATTEST universal PLASMA and LCD mount in the world.
The new UF-PRO is manufactured from the highest quality materials, and is your new solution for mounting a flat screen plasma or large size LCD TV on your wall. It is easy to install and compatible with over 95% of current screens by major manufacturers.
The new design is also the FIRST on the market with a built-in V-BAR, which allows you to vertically adjust the height of the screen by simply re-adjusting the V-BAR. All necessary hardware is included for different wall types. Horizontal and vertical position adjustments allow perfect positioning of the screen regardless of the distance of wall studs.
Retail: $199
Soundscape Price: $159 each
Free Freight
In Stock for fast delivery!
KEY FEATURES:
Fits most Plasma and LCD screens from 37" to 63"
Supports up to 175 lbs.
Heavy gage steel construction
Black or silver finish
3 main parts allows for Easy installation
Only 0.98" from the wall
Up to 3" of vertical adjustment after initial installation
Theft-resistant security fasteners included
Mounting hardware included
Compatibility:
This universal wall-mount bracket is designed to fit flat-panel plasma and LCD screens from 37" to 63". The TV can have a maximum weight of 175 pounds. Mounting The wall plate must be anchored directly to wall studs using the supplied lag bolts. The slots in the wall plate can accommodate a variety of stud spacing, allowing you to easily mount the TV to wall studs that are 16" or 24" on center. Once the wall plate is anchored to the wall studs and the TV rails (with the TV attached) are hooked onto the wall plate, the TV can slide left to right, allowing you to center the TV on the wall. After the TV is secured, it will be held approximately 0.98" from the wall.
---
ARTICULATING WALL MOUNT FOR LCD TV UP TO 22" WITH BUILT IN CABLE MANAGEMENT
ProMounts UPA-100
ARTICULATING WALL MOUNT
FOR LCD TV UP TO 22"
WITH BUILT IN CABLE MANAGEMENT
Retail: $279
Soundscape Price: $199 each
Free Freight
In Stock for fast delivery!
---

Soundscape Price:Call
---
Plasma Displays
Extended Warranties Available!
---
Plasma Monitors
Plasma Technology
LCD Displays
Screens

---
CLEARANCE SALE
---
Call for Current Pricing
---
We accept



over the phone or by E-mail.
---
ORDERING BY PHONE
If there is no authorized dealer in your area you can order directly from Soundscape.
(707) 578-4434
---
Last Update: December 25, 2017
---


Audio & Video
4340 Secretariat Way, Roseville, CA 95747
Phone 707- 578-4434
marc@soundscapeav.com



E-mail Soundscape