Soundscape Product Listing
---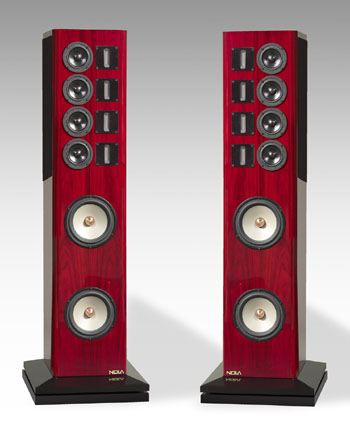 ---
Soundscape Price: $59,000*
*Includes free delivery anywhere in the continental US!
The Nola Baby Grand Reference Series II utilizes the same technology as our flagship $278,000 Grand Reference VI. The Baby Grand Reference Series II is a two-tower system utilizing four 9-inch magnesium woofers, eight proprietary 4½-inch midrange drivers with Alnico magnets and eight custom Raven 4-inch true ribbon tweeters with heavy neodymium magnets. The drivers are configured in a unique mirror-imaged, open baffle short line source array that maintains focus while providing life-sized images. Enclosure coloration in the critical mid- and high- frequency range is nonexistent -- something that cannot be achieved with any kind of box loudspeaker. The result is an effortless "live" sound instead of the typical mechanical sound of other loudspeakers.
The 3½ way UnisonTM Xtreme Crossover System is now implemented on three separate crossover boards integrated into the loudspeaker itself. This implementation was possible due to the recent development of the new UnisonTM crossover topology that provides superior performance.
The UnisonTM Xtreme Crossover System utilizes the same state of the art Silver / Gold / Oil passive components as are employed in our Grand Reference VI. The Baby Grand Reference Series II is now single wired, which provides optimum performance. Connection is through a single pair of pure copper binding posts.
The loudspeaker includes the twin platform ball bearing isolation base with premium spikes to provide isolation from floor transmitted vibrations for the crossover boards as well as the loudspeakers.

Specifications
Frequency Range: 20 Hz to 46 kHz
Dimensions: 62 inches H x 12 inches W x 16 inches D (overall with bases)
Weight: 160 lb. net per side
Sensitivity: 89 dB
Impedance: 8 ohm / 4 ohm minimum
Finish: True Piano Rosewood with True Piano Black bases is standard. Piano Black and other finishes available by special order.

Specifications subject to change without notice.
RMAF 2008 Show Report (Rocky Mountain Audio Fest) Article By Ron Nagle

As it happened the first room I walked into was producing some very decent sound. It was housing Nola Accent Speakers. Carl Marchisoto was demonstrating the Nola Baby Grand Reference speakers powered by Audio Research CD-7, Reference 210 mono amplifiers and Reference 3 preamp. The $55,000 speakers have eight open baffle dipole midrange cone drivers and eight 4-inch ribbon tweeters above a bass cabinet housing four 9-inch magnesium woofers. The music I sampled had power without edges, smooth and very life like it was one of the most natural sounds at the show.


Issue 190 / February 2009

Rocky Mountain Audio Fest 2008

Jonathan Valin's Best of Show Runner-Up:
Nola Baby Grand References

In room 431, the $55k Nola Baby Grand References, ribbon/cone dipole with separate woofer towers, powered by ARC 210 amps, an ARC Reference 3 preamp, and an ARC CD7, were once again superb -- very neutral with a wonderful density of tone color. They sounded simply great on the music I played -- so lifelike in timbre and so dynamically alive and open and bloomy and airy that they came within a hair's breadth of winning my Best Sound of Show Award.

CES 2008: Chris Martens Explores Affordable Loudspeakers at CES

Best Sound: Though perhaps not the most "accurate" system at the show, Nola's Baby Grand Reference speaker system ($55k), as driven by Audio Research source and amplification components, captured the "feel" of live musical events more effectively than anything else I heard at CES.
Specifications subject to change without notice.
---
Last Updated: February 10, 2012
Extended Warranties Available!
---
CLEARANCE SALE
We now offer 90 Days Same As Cash (SAC) 365 days a year !
Come in and ask us about it.
---
Our Business Hours are:
Monday - Friday 11am to 7pm Pacific Time
Saturday 12pm to 5pm.
We are closed on Sunday!
---
Extended Warranty
---
We accept

over the phone or by E-mail.
---
ORDERING ONLINE
click here!
ORDERING BY PHONE
If there is no authorized dealer in your area you can order directly from Soundscape with a 10-day, satisfaction, money-back guarantee.
US and Canada, 1-800-450-HIFI (1-800-450-4434)
Outside the US and Canada, (707) 578-4434
Monday - Friday 11:00 AM - 7:00 PM (PST)
Fax: (707) 578-4436
---

---


1044 Fourth Street, Santa Rosa, CA 95404
Phone/Fax 707-578-4434 or 800-450-HIFI
marcs@sonic.net