Marc Silver's Page!
Marc's Horoscope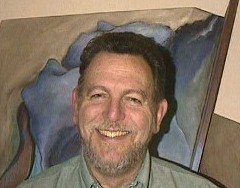 Marc Silver
May 25, 1949
9:49 AM
Los Angeles, California
Positions of Planets at Birth:
Sun position is 4 deg. 10 min. of Gem
Moon position is 9 deg. 07 min. of Tau
Mercury position is 16 deg. 57 min. of Gem
Venus position is 14 deg. 25 min. of Gem
Mars position is 18 deg. 58 min. of Tau
Jupiter position is 2 deg. 08 min. of Aqu
Saturn position is 29 deg. 50 min. of Leo
Uranus position is 29 deg. 07 min. of Gem
Neptune position is 12 deg. 37 min. of Lib
Pluto position is 14 deg. 21 min. of Leo

---
Section 1: How You Approach Life and How You Appear To Others
Leo Rising:
Ferociously proud and somewhat vain, you like to be impressive and to be seen as somebody Special. You are not timid, meek, or self-effacing, and are rarely content being in the background or in the subordinate position. You are a natural leader, and do not take orders from others very well. You must have something of your own, something creative - be it a business, a project, a home or whatever - that you can develop and manage according to your own will and vision. Whatever you do, you do it in a unique, dramatic, individual way. You like to put your own personal stamp on it.
You also have a very strong sense of dignity, self-respect, and personal honor and are deeply offended if someone treats you in a humiliating or dishonorable way. You will rarely confront the offender - you are too proud to do so - but you will lose your affection and respect for them. You dislike pettiness and hate to be snubbed or ignored.
You admire others who are strong individuals like yourself.
When you befriend someone, you are tremendously loyal, sincere, and willing to go to extraordinary lengths to make that person happy. You are very giving and generous, but your gifts are never anonymous - you expect recognition and appreciation for them. You also expect the intense loyalty that you offer to your dear ones to be reciprocated. However, you often have trouble working with people who are as strong as yourself, for you do not really cooperate or share the leading role very easily. If you are not in the leading role, you aspire to be and will compete with the person who is.
You have great heart and courage, and people often look to you for strength, encouragement, and affirmation. You always have your best face forward and rarely allow others to see you hurting, disheartened, or vulnerable. You also have a very strong need for love, admiration, appreciation, and praise, although you don't like others to realize just how important it is to you.
Your outlook on life tends to be very personal and rather self-centered. Your own self-expression, self-actualization and self-realization interests you more than anything else. You feel that if you do your best where you are, the rest of the world will take care of itself.
Pluto Conjunct Asc.:
You are extremely willful, but often achieve your desires in a quiet, secretive, or manipulative way. You may be intensely charismatic and wield considerable influence over others, or you may be attracted to such powerful, fascinating personalities.
You tend to go to extremes in whatever you do, to be compulsive, and are driven by a sense of mission or destiny. You don't take anything at face value and are always digging beneath the surface for the deeper meaning or real motivations of others.
Section 2: The Inner You: Your Real Motivation
Sun in Gemini:
You are, in many ways, an eternal child. Your mind is bright, alert, curious, flexible, playful, and always eager for new experiences - and your attention span is often quite brief.
You grasp ideas quickly and once your initial curiosity has been satisfied, you want to go on to something else. You crave frequent change, variety, meeting new situations and people.
It may be hard for you to decide just where your talents and true vocation lies, for you have a multitude of interests and are loathe to limit yourself by concentrating on just one. You are easily distracted by all of the other fascinating possibilities. Your curiosity and restlessness propel you into many different experiences in life, and you are willing to taste or try anything once. Doing the same thing over and over again, even it is something you do well, is real drudgery for you.
You live in your head a great deal - reading, observing, thinking, spinning ideas around - and you need mental stimulation every bit as much as you need food and drink. In fact, if you had to choose between a good book or movie and a good lunch, you would very likely choose the former. You have a creative mind and often live by your wits.
You are also a very social creature, with a strong need to communicate and to interact with people. You enjoy using and playing with words and have a real flair for getting your ideas across in a clever, interesting, articulate manner. Writing or speaking are areas you have talent for.
You also have a rather light and mischievous sense of humor, and often do not take anything too seriously. Though you crave emotional involvement, it is hard for you to achieve it, for you are frequently unwilling to commit yourself to anything, to take responsibility, or to limit your personal freedom and mobility.
Your happiness lies in using your creativity and your language skills to communicate something meaningful, to teach, inspire, or bring people together. You have an unbiased mind and can usually offer a fresh, clear, uncluttered perspective. Your faults are your lack of constancy and persistence, and your tendency to overlook or ignore deep emotional issues and other people's feelings.
Section 3: Mental Interests and Abilities
Mercury in Gemini:
You have an extremely active, lively and versatile mind with a multitude of interests and an inexhaustible curiosity about life. You are quick to grasp new concepts and equally quick to lose interest in an idea or project once your curiosity has been satisfied. You like to taste a little bit of everything -concentration and disciplined study are not your strong points.
Mentally restless, you may change jobs or locations frequently, or do work that involves movement, travel, and variety.
You have a flair for language, playing with words, speaking, writing, or teaching in an entertaining and informative way. You also enjoy meeting new people, conversing and learning a little bit about them, and you work well with the public.
Sales, advertising, communications, journalism, or public relations are good areas for you. Your ability to be articulate and to communicate well is one of your greatest strengths.
Section 4: Emotions: Moods, Feelings, Romance
Moon in Taurus:
Even-tempered and peace loving, you are not easily ruffled and are rarely given to emotional displays. You have a calming effect on more high-strung or volatile people, and an emotional steadiness that others find soothing. Though gentle and not easily provoked, you are tremendously stubborn and will resist any change, which requires an emotional adjustment, such as changes in your home life or marriage.
You seek security and loyalty in love, are extremely devoted to your loved ones, and provide a warm, nurturing atmosphere for them. However, you tend to cling and seek to keep others from changing.
A great deal of physical affection, closeness, and touching is essential to your well being, and you have a tendency to overindulge in sensual comforts and pleasures. At times you substitute food for emotional comfort and love.

What are his vital statistics?
401 REASONS WHY MY NEW BRIDE LOVES ME!
---
Last Update: April 10, 2020
---


Audio & Video
4340 Secretariat Way, Roseville, CA 95747
Phone 707- 337-3355
:marc@soundscapeav.com



E-mail Soundscape