Soundscape Product Information
---
Grado Headphones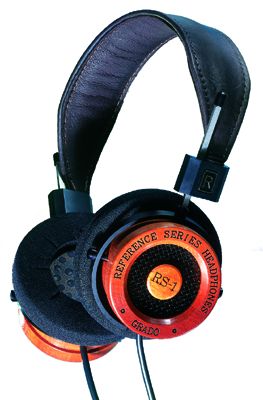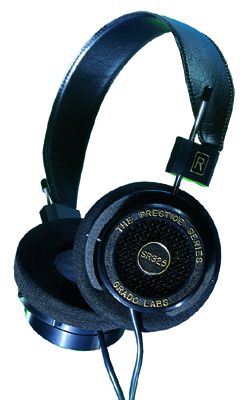 | Model | Retail Prices |
| --- | --- |
| Grado PS2000e | $2695/pr.* |
| GS1000e | $995/pr.* |
| PS500 | $595.00/pr.* |
| SR-325e | $295.00/pr.* |
| SR-225e | $200.00/pr.* |
| SR-125e | $150.00/pr.* |
| SR-80e | $99.00/pr.* |
| SR-60e | $79.00/pr.* |
| iGradoe | $49.00 each+ |
| Extension Cable | $39.95 each+ |
| Mini Adapter | $14.95 each+ |
| Grado GR10e | $399 each* |
| Grado GR8e | $299 each* |
*Includes Domestic Freight
+ Add $5 for domestic Freight.
These headphones are scary good. They shouldn't be, for the price, but they are. The 325 sports the same aluminum air chamber as the award-winning HP1 and HP2 Signature headphones.

The 60 has a convertible mini-to-1/4" plug for standby duty on portables. And yes, these are the phones that received, in 1994, two "Product of the Year" awards in Stereophile, for accessory of 1994 and "Budget Component of the Year" - what else can we say?

Our old manager owns the 325s, connected into a McCormack Micro Headphone Amp, and his wife is complaining about marital neglect...
Call or E-Mail for specifics as well as info on Grado cartridges!

---
iGrado
Features:
Black or White color choices
Over the ear and behind the head design
Cord Length: 40 inches
Specs:
Transducer Type: Dynamic (USES SAME DRIVER AS THE SR60 !!!!)
Operating Principal: Open Air
Frequency Response: 20-20K
SPL 1mV: 98
Impedance: 32 ohms
Weight: 3 Ounces
---
Grado
Reference Headphone Amp RA-1

Soundscape's Price $Call*
* including domestic delivery

After years of relying on other equipment to drive Grado headphones, you can now listen and enjoy headphones through our new Grado Reference Headphone Amp, the RA-1. Designed for state-of-the-art performance and specifically to play Grados, the new RA-1 will allow you to hear your headphones like never before. This new amp is machined from a solid block of mahogany. It measures a mere 5" wide, 5 1/2" deep, 1 1/2" tall and weighs in at twelve ounces. Two 9-volt batteries will drive the amp for 40 to 50 hours of listening pleasure. And the sound? Just like all Grados: warm, smooth, full-bodied, non-fatiguing and rich. Hook it up to any line source (portable or in-home) and drive your Grado headphones to their full potential. A must for any serious headphone listener.
NEW! RA1-HG High Gain Headphone Amp
Soundscape's Price $Call*
* including domestic delivery
---
Product Warranty Statement
"Only products purchased from an authorized Grado reseller will be honored under Grado's warranty program. Grado resellers are not permitted to offer merchandise through any online auction services; hence any products purchased this way are not covered under Grado's warranty program. When purchasing a Grado product please keep all receipts, for they will be needed to have warranty service performed."
John Lazart
National Sales Director Grado Labs
---
CLEARANCE SALE
---
Extended Warranty
---
We accept



over the phone or by E-mail.
---
ORDERING BY PHONE
If there is no authorized dealer in your area you can order directly from Soundscape..
(707) 337-3355
Monday - Friday 12:00 AM - 5:00 PM (PST)
---
Last Update: April 8, 2020
---


Audio & Video
4340 Secretariat Way, Roseville, CA 95747
Phone 707- 337-3355
:marc@soundscapeav.com



E-mail Soundscape