Soundscape Products

---
In June of 1979, Genesis co-founder Arnie Nudell headed a small team at Infinity Systems that conceived and created
the most remarkable home loudspeaker system the world had ever known: the Infinity Reference Standard.
The IRS would soon come to be regarded as the world's ultimate, cost no object,
reference system and maintain that stature for nearly 15 years.
In June of 1993, Arnie Nudell took the next logical step in the evolution of the ultimate no compromise loudspeaker system:
the Genesis 1.2. Now we take the next step.
---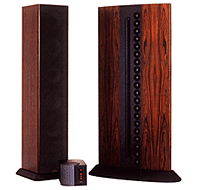 Genesis 1
Speaker System
- CALL

PHYSICAL DESCRIPTION
The Genesis 1.2 consists of four major modules: two midrange tweeter screens and two bass towers. Each module is 7.5 feet (228.6 cm), and is covered in the most beautiful plantation grown South American rosewood that money can buy and is hand finished to the most exacting furniture grade standards possible.
Each of the midrange/tweeter panels is 42 inches (106.4 cm) wide and houses a 75" tall ribbon midrange and twenty ribbon tweeters on the front and six in the rear to form a near perfect dipolar line source array. Each baffle is machined out of a solid piece of one inch thick black Corian.
Each tweeter is our own proprietary 1 " ribbon built from an incredibly thin membrane of Kapton and aluminum (.0005" thick). Behind the flat diaphragm of the tweeter is the motor, a precision machined and focused magnetic structure.
The midrange module is a new single 75" dipolar ribbon driver. A push pull dipole configuration was chosen to eliminate the distortion inherent in many single ended ribbon designs. The diaphragm of this driver is made of a very thin 0.001" thick Kapton film laminated with a thin aluminum strip which acts as the voice coil of the driver. The entire device is suspended in a powerful magnetic field created by over 30 feet of barium ferrite magnets.
The two bass towers stand seven and a half feet tall, 18 inches (45.6 cm) wide and house twelve servo controlled twelve inch metal cone woofers individually driven by a massive 12 channel 4000 watt servo amplifier, housed in two Tower chassis and connected to the woofers via a custom 30 foot cable hand-crafted by AudioQuest. The fully discrete servo amplifier is remote controlled and functions include volume, low pass, high pass, phase and power. Inside there are 3 toroidal transformers that deliver the power, which is adjustable to any line voltage a customer might desire.
The crossover module for each of the midrange/tweeter panels is housed in a separate Corian enclosure with a tuned suspension system to isolate it acoustically. Inside the crossover, Genesis has incorporated the world's first multiple tap copper foil inductor for the midrange and our own proprietary polypropylene film and foil capacitors for the tweeter array.
The complete Genesis 1.2 system consisting of the five separate elements weighs over 1 l/4 tons and is shipped in 6 wooden crates.
MINIMUM ROOM REQUIREMENTS
The Genesis 1.2 can successfully operate in a dedicated listening room as surprisingly small as fifteen by twenty feet. Larger non dedicated rooms are no problem for the Genesis 1.2 and it is most comfortable in a large living room with either conventional or vaulted ceilings.
ASSOCIATED EQUIPMENT REQUIREMENTS
The Genesis 1.2s are quite efficient and can easily be driven from as little as a 100 watt per channel amplifier, tube or solid state, and as powerful as a 1,000 watt amplifier. They are a 4 ohm load. The Genesis 1.2s are one of the few speakers in the world that can achieve actual live listening levels with ease.
---
You can call us for free from anywhere in the USA!
Our Business Hours are:
Monday - Friday 11am to 7pm Pacific Time
Saturday 12pm to 5pm.
We are closed on Sunday!
---
We accept



over the phone or by E-mail.
---
ORDERING ONLINE
click here!
ORDERING BY PHONE
If there is no authorized dealer in your area you can order directly from Soundscape with a 10-day, satisfaction, money-back guarantee.
US and Canada, 1-800-450-HIFI (1-800-450-4434)
Outside the US and Canada, (707) 578-4434
Monday - Friday 11:00 AM - 7:00 PM (PST)
Fax: (707) 578-4436
---
EXTENDED WARRANTY INFORMATION
---
CLEARANCE SALE
We now offer 90 Days Same As Cash (SAC) 365 days a year !
Come in and ask us about it.

---
Last Update: January 16, 2009
---


1044 Fourth Street, Santa Rosa, CA 95404
Phone/Fax 707-578-4434 or 800-450-HIFI
marcs@sonic.net