Soundscape Product Information
---

Ultimate AC Power For Your Audio and Video System
AC Power For Your Home Theater The patented RGPC parallel technology is unique because it removes +40 db of AC line noise without any current limiting whatsoever; it instantaneously stores and releases high current-on-demand to give your most demanding components such as amplifiers and powered subwoofers more dynamics when most needed; provides the very best non-sacrificial surge suppression from both the constant small surges that can cause pre-mature destruction of your most valuable components as well as the large power surges we all fear.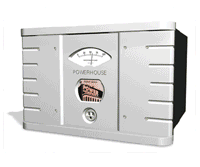 Now you can rack mount Richard Gray's legendary AC technology After requests from audio and home theater enthusiasts, Richard Gray's Power Company has come out with the Richard Gray's Power Company 1200S to meet the demand for a single, all-inclusive parallel power enhancer to supply cleaner power to multiple components.
Offering the power of two RGPC 400 MK II suppliers, 12 Hubbell outlets and a 20 amp system, the RGPC 1200S removes AC line noise without limiting current. It's electric-flywheel effect stores and releases energy instantaneously to components that are often starved for current by the resistance on a soft AC line. Its unique design also makes it an effective surge-protection system..
PowerHouse 3X wins a 2006 Product of the Year award from Electronic House

PowerHouse • (NEW!) 1200 Custom • Pole Pig
• SubStation • High Tension Wire • 600S • (NEW!) 400 Pro • Power Link
Click here for more reviews...
---
Extended Warranties
---
CLEARANCE SALE
---
Call for Current Pricing
---
We accept



over the phone or by E-mail.
---
ORDERING BY PHONE
If there is no authorized dealer in your area you can order directly from Soundscape.
(707) 578-4434
---
Last Update: January 2, 2018
---


Audio & Video
4340 Secretariat Way, Roseville, CA 95747
Phone 707- 578-4434
marc@soundscapeav.com



E-mail Soundscape