If you're considering purchasing a Marantz product over the internet, protect yourself by going to Marantz Audio's Dealer List Site at http://us.marantz.com/us/Dealer/Pages/DealerListing.aspx Avoid any un-authorized dealer as you forfeit your warranty protection and perhaps a lot more. Don't take the risk of being ripped off!

AV7701 7.2 Channel 4K & 3D Pass Through AV Preamp/Processor with Networking and AirPlay
MSRP : $1,699.99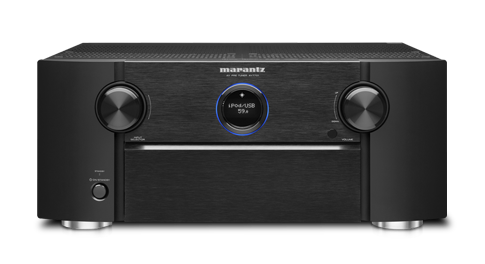 An ideal connectivity solution for any home theater system, the Marantz AV7701 A/V 7.2 Channel Preamplifier helps you make the most of Blu-ray players, turntables, and other entertainment devices. When paired with an amplifier, this preamp delivers immersive and faithful surround sound performance across 7.2 channels. It also features 4K upscaling and pass-through, so you can enjoy the latest HD video content to the fullest.
Advanced Audio Decoding for Dynamic Surround Sound
Equipped with advanced processing and decoding technologies, the AV7701 Preamplifier lets you enjoy unparalleled audio performance regardless of the source. It uses Dolby TrueHD and DTS HD-Master Audio to ensure accurate 7.1 surround sound decoding, flawlessly balancing sound across the channels. The preamp can also play back high-resolution formats such as FLAC and WAV with exceptional fidelity.

Audyssey Processing Delivers Balanced, Dramatic Sound
The preamp incorporates Audyssey MultEQ technology, which uses a microphone to gauge ambient sound and adjusts speaker levels accordingly. The result is a flawlessly balanced acoustic environment where sound is optimally distributed throughout the room. In addition, Audyssey DSX processing expands the front sound stage, producing a more enveloping and cinematic listening experience.

AV7701 A/V 7.2 Channel
Preamplifier
At a Glance:

Audiophile preamplifier delivers exceptional audio and video performance

Supports 7.2 surround sound speaker configurations

Premium decoding and processing
for high-fidelity sound

Audyssey MultEQXT and DSX for balanced, cinematic soundstage

4K upscaling and pass-through for enhanced picture quality
Video Upscaling Ensures Pristine Picture Quality
The AV7701 Preamplifier can upscale any HDMI video signals to 4K (3,840 by 2,160 pixels), providing four times the picture quality of 1080p. This enables you to use it with 4K monitors and video projectors. The preamp also supports traditional 1080p upscaling, making it suitable for use with most HDTVs. Controlling the preamp's upscaling settings is easy, thanks to an intuitive on-screen overlay.
Vivid 3D Visuals with Pass-Through and Color Depth
The AV7701 Preamplifier passes through 3D signals from your Blu-ray player. The preamp also supports Deep Color and x.v.Color content, which can display a larger color range than standard-definition schemes and delivers a more vibrant, lifelike picture.
Seven HDMI Inputs for Multiple Connections
With seven HDMI inputs and three HDMI outputs, the preamplifier can connect to a variety of HDMI-enabled devices, including set-top boxes, Blu-ray players, game systems, and media players. It also supports simultaneous dual HDMI outputs as well as a third discrete HDMI output, so you can output a single video source to two different displays and a second source to a third display at the same time.
Connect Your Turntable with a Dedicated Phono Input
The AV7701 Preamplifier is also equipped with a variety of other ports, including a phono input that lets you connect to a turntable and offers the amplification that this weaker signal requires. The preamp's phono circuitry prepares the signal from the turntable for amplification, letting you enjoy your vinyl collection at full volume without tonal distortion.
Versatile Networking Options for Network Streaming
By connecting to your home network, the AV7701 Preamplifier can stream a range of online content--including photos saved on your home network, your network's music library, and Internet radio stations like Pandora and Sirius XM. The preamp also features AirPlay functionality, which lets you stream music from an iPod Touch, iPhone, iPad, or iTunes library. And thanks to its optional Bluetooth wireless connectivity, the preamp can also wirelessly sync with smartphones, tablets, and other Bluetooth-enabled devices.
For users with Spotify Premium accounts, the AV7701 offers direct access to more than 18 million music tracks. Spotify streams music content with a high-quality 320 Kbps bitrate, offering high-fidelity listening through your home-audio system.
Product and Warranty Information
The Marantz AV7701 A/V 7.2 Channel Preamplifier measures 17.13 by 7.36 by 15.98 inches (W x H x D) and weighs 21.56 pounds. It is backed by a 3-year limited warranty.
What's in the Box
The Marantz AV7701 A/V 7.2 Channel Preamplifier, power cord, HD Radio Antenna, remote control, 2 AAA batteries, CD-Rom owner's manual, quick setup guide, Audyssey microphone.
MM705 5-Channel Power Amplifier
MSRP : $1,199.99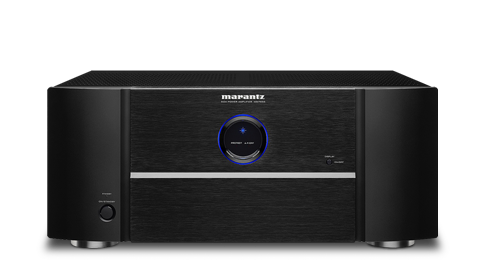 The MM7055 power amplifier produces 140 watts of high current output from each of its five channels. This is "real world" power, too, measured across the full audio bandwidth (20 Hz – 20 kHz) at 8 ohms with 0.08% Total Harmonic Distortion. Among other attributes, this means the MM7055 is capable of long-term power delivery into low impedance speakers
The Many Faces of Excellence
In practical terms, the MM7055 is ideal for a "5.1" home theater system, whether based on a moderately powered receiver or a surround sound processor. You can use it to power speakers in different areas of your home; stereo reproduction in two rooms plus a mono channel for secondary areas such as a den or kitchen. For more complex home theater systems, the MM7055 pairs with one or several MM7025s to help create a totally immersive "7.1" or "9.1" audio experience.
Inside The MM7055
A massive power supply includes a multiple-secondary EI-core transformer and over 65,000 µF of custom-designed energy storage capacity. Critical circuit components from many world-class suppliers were chosen only after extensive listening tests. Among these, the LAPT Hyper Power output devices were first used in Reference Series components. Current feedback topology insures astounding accuracy and control under high-drive conditions.
A Temperature-Controlled Environment
Physically, the MM7055's output stages mount on an extruded aluminum "thermal tunnel" for efficient heat dissipation. With temperature-sensing forced air cooling, this configuration assures cool operating temperatures for long-term reliability, even when making full use of the amplifier's substantial output capabilities.
Flexible Connections
Balanced inputs and single-ended RCA inputs are both supported, and you can choose either type of input for each channel, individually, for easy and flexible connectivity. Audiophile grade, gold-plated four-way binding post speaker terminals insure tight connections to your choice of speaker wire.
Custom Touches
The MM7055 includes input and output jacks for DC "trigger" pulses as well as RC-5 jacks for total remote control convenience, even with legacy Marantz products.
The chassis itself is heavy gauge steel for maximum isolation from external vibration as well as electromagnetic and radio frequency interference. And chassis depth is less than 14½" so the MM7055 will fit quite nicely on a shelf, in a cabinet, or in a conventional system rack with the optional rack mount kit RMK8003MM.
Power. Functionality. Dependability. And classic looks. The MM7055 is, simply speaking, a Marantz.
MM7025 2-Channel Power Amplifer
MSRP : $799.99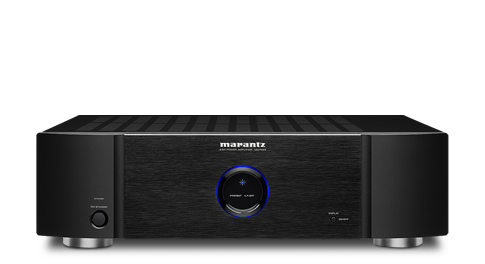 First Impressions
If you're impressed by elegantly restrained industrial design, the MM7025 is guaranteed to make a lasting – and very positive – impression. The subtly curved aluminum/glass resin front panel adds a sophisticated touch that complements any décor. The central porthole display reflects iconic Marantz designs of the past while it brings you an "at a glace" view of the amplifier's operating status.
Getting Connected
Both single-ended RCA and balanced XLR inputs assure system compatibility regardless of your preamplifier or processor. For maximum flexibility, you can choose inputs independently for each channel.
The MM7025's heavy duty, gold-plated, four-way binding posts accept virtually any choice of loudspeaker cable
Your System, Your Way
The MM7025 encourages various system configurations. Use one for dedicated two-channel listening, or use two to as zone amplifiers to power speakers in different rooms. Adding a new pair of loudspeakers to an existing home theater? – Get the most from your investment by adding an MM7025 as well. The exact configuration is up to you. Sound quality isn't – it's Marantz regardless of how you use this power amplifier.
Marantz Sound Quality
The MM7025's advanced technology serves all your listening needs. Current feedback circuits, also used in Marantz's Reference Series amps, insure the purest sonic reproduction regardless of source. Another MM7025 virtue, and one directly traceable to its substantial current capability, is the control it establishes over difficult speakers to reproduce both dynamic musical peaks and whispered dialog without blemish.
The Power Supply
As befits a Marantz amplifier, the high-capacity power supply begins with an oversized EI-core transformer feeding carefully chosen capacitors capable of storing 30,000 µF of energy. This combination instantaneously delivers peak power to all amplifier stages for distortion-free reproduction of the most complex sources.
Output Devices
In the final amplification stage, specially selected LAPT Hyper-Power output transistors, originally selected for Reference Series use, deliver fortissimo and pianissimo passages with equal aplomb. To make sure they're always operating at ideal temperatures, these transistors are mounted on a forced-air "thermal tunnel."
Where Do I Put It?
The MM7025 is less than 14" deep from front panel to rear speaker terminals. This lets you place the amplifier almost anywhere – in a cabinet or on a shelf. A detachable AC cord makes placement easy, even when there's little room and you can even rack mount it with the optional rack mount kit RMK8754MSP.
Remote Control, Too
You'll find rear panel connections for a "flasher" input that conveys On/Off commands from an infrared (IR) remote controller. There's a DC trigger input (and output) that lets you "daisy chain" one or several MM7025s to turn on and off in synchronization with your preamplifer or surround processor. If you're going to use the MM7025 with legacy Marantz products, there are RC-5 connectors to give you a level of operating convenience you might not have thought possible.
Conclusion
Refined looks. Flexible connectivity. Superb sound quality. Convenient operation. Yes, these Marantz attributes come together in the MM7025 Stereo Power Amplifier.
It is, as are all Marantz products, devoted to one goal – satisfying your desire for an exceptional listening experience.
---
For operational and technical assistance 24/7, use our self help Online Support Center, where answers to many common questions can be found.