If you're considering purchasing a Marantz product over the internet, protect yourself by going to Marantz Audio's Dealer List Site at http://us.marantz.com/us/Dealer/Pages/DealerListing.aspx Avoid any un-authorized dealer as you forfeit your warranty protection and perhaps a lot more. Don't take the risk of being ripped off!

Reference Series
True to the decades-long tradition of Marantz audio excellence; experience the innovative audio engineering and extraordinary fit and finish of these fine-quality instruments of music reproduction.
PM-11S3 Reference Series - Integrated Amplifer
Integrated Amplifier
MSRP : $4,999.99
Integrated amplifier delivers flawless audio performance
Cutting-edge audio technologies ensure accurate sound reproduction
Phono, CD, and auxiliary ports for versatile connectivity
Supports multi-channel speaker systems
Remote control for easy volume and playback control
Exclusive HDAM Technology Delivers Exceptional Dynamic Range
Featuring separate phono and line level circuit boards, the PM-11S3 is equipped with our exclusive HDAM (Hyper Dynamic Amplifier Module) technologies, which provide superior low noise wide band performance in an all-discrete configuration, compared to conventional op amp ICs. The PM-11S3 incorporates no less than 40 HDAM SA3 latest generation modules, which feature ultra fast slew rate for true wideband response and maximum dynamic range, including multiple HDAM SA3 modules in the phono stage.

Phono Input for Connections to Vinyl Record Players
The MM/MC phono section incorporates our latest Constant Current Feedback gain stage which features DC Servo equalization that eliminates the discontinuities in tonal balance caused by conventional RIAA equalization using ordinary dual band negative feedback topology, for the purest reproduction of your favorite vinyl recordings.

Robust Power Supply Supports Multiple Loudspeakers
Rated at 100 watts per channel into 8 ohms, the PM-11S3 features an extremely robust power supply and comparably rugged power amplifier output stages that together provide incredible low impedance drive capability, with a power output of 200 watts per channel into 4 ohms, easily able to drive virtually any audiophile loudspeaker with stability and utmost fidelity. The power supply features a massive 950 VA toroidal transformer wound with OFC (Oxygen Free Copper) for maximum headroom and operational stability, securely anchored to the chassis via its own solid metal sub-mounting plate which eliminates the possibility of transformer-induced vibrations. Instead of a conventional bridge rectifier, the PM-11S3 incorporates fast response, high current Shottky barrier diodes, which provide faster switching and lower voltage drop for a more pure DC output.

Versatile Connectivity
The front end of the PM-11S3 provides maximum control and configuration flexibility, as it can be configured as a conventional stereo integrated amplifier, or set up with another PM-11S3 as a dual component four channel configuration for bi-amp operation, and it can also be paired with an A/V surround processor/pre-amp and used as a stereo power amplifier for the main left and right speakers in a home theater system via the Power Amp Direct inputs. Line level inputs feature unbalanced (RCA) and fully balanced XLR options for maximum connection flexibility.

Intuitive Control Panel and Remote Control
Supplied with a newly designed remote control (which can also operate the matching Marantz Reference Series SA-11S3 SACD/CD player), the PM-11S3 features an all new digitally controlled analog volume control system, which provides the precision of tightly defined volume adjustment over the entire range with outstanding channel tracking (.5 dB) while keeping the audio information entirely in the analog domain.

Equipped with our distinctive Reference Series front panel design, the PM-11S3 features an improved contrast, ultra low noise LCD display that provides information including volume level, channel balance, bass and treble control levels, selected source as well as attenuation level, which can be user-set for -20 dB, -40 dB or full mute.

Rugged, Durable Construction

Weighing in at just under 59 pounds, the PM-11S3 features a new chassis design with beautiful casework that includes a new 5mm thick solid aluminum top panel for maximum chassis rigidity that allows additional components to be stacked on top. The chassis also features a dual layer bottom panel for additional strengthening, and all internal chassis surfaces are copper plated for maximum resistance to RF and electrically induced interference. Around back, the PM-11S3 is equipped with our newly designed reference grade multi-way speaker binding posts which feature pure copper contoured knobs for optimum connectivity with a wide variety of speaker cable terminations.

Whether your music collection is analog, digital or both, the Marantz Reference Series PM-11S3 integrated stereo amplifier sets a new benchmark in audio fidelity, configuration flexibility and control convenience that preserves analog signal integrity. You'll discover new levels of musical listening pleasure with the PM-11S3 at the heart of your stereo music or multi-channel surround sound audio system.
PM-15S2B Limited
MSRP : $2,499.99
While the PM-15S2 Limited features luxurious, black anodized aluminum casework, the beauty of this extraordinary new component runs more than skin deep. Key design attributes, some first explored in the award winning MA-9S2 monoblock amplifier, lift the sonic integrity of the 15 to a level that belies its approachable price. HDAM-SA3 modules offer high slew rate and low noise operation and contribute to the highly resolved sonic character of the component. A custom-wound torroidal power transformer anchors a high current, regulated power supply that's been newly tuned for quick response. Twin 20,000 microfarad filter capacitors are custom made for Marantz and provide huge current reserves for enhanced bass control. A current feedback power amplifier delivers 90 watts per channel into 8 ohms and features a DC servo for superior low frequency response. Vinyl enthusiasts will appreciate the fast, sonically neutral qualities of the constant current feedback moving magnet phono stage, as well as the vivid imaging afforded by a digitally controlled analog volume stage that boasts channel to channel accuracy within .5 dB. HDAM-SA2 modules are deployed in a buffer configuration at the CD input for enhanced linearity. A Bi-Mode setting makes it possible to operate two PM-15S2 as mono-integrated amplifiers for total left-right channel isolation while a power amp direct input allows complete integration with a home theater processor at the touch of a button.
SA-11S3 Reference Series - SACD/CD Player
MSRP : $3,999.99
Versatile audio player delivers exceptional sound quality
Cutting-edge converter chip for enhanced dynamic range and audio clarity
Coaxial, optical, and USB ports for maximum connectivity
High-fidelity CD playback with SACDM2 mechanism
Multiple digital filtering options for adjustable audio playback
Includes convenient remote control
Premium Converter Chip Enhances Dynamic Range and Clarity
New for the SA-11S3 is the inclusion of the top-line Burr-Brown DSD1792A D/A converter chip, which features both PCM and DSD decoding, and provides a high current output that is substantially larger (7X more) than the DAC chip used in previous models, for greater dynamic range and improved signal to noise characteristics. Coupled to the Marantz-designed latest generation PEC777f3 24 bit DSP processor/digital filter, the combination provides unparalleled sound quality from both PCM (CD, LPCM, WAV) sources and Super Audio CD DSD bitstreams. With multi-channel SACDs, the SA-11S3 also provides stereo (2 channel) down-mixing.
Multiple Filters Offer Versatile Listening Options
Two digital filter options are provided for both PCM and DSD bitstreams. With PCM content Filter 1 has a symmetrical impulse response with extremely short pre- and post-echo characteristics and an absolutely linear phase response for a sound that is the most faithful to the original digital audio source, while the Filter 2 option provides a more analog-like signal that strikes the best balance of fine detail coupled with rich harmonics. With DSD content from SACD, Filter 1 provides a direct decoding function with no additional filtering, while the Filter 2 option attenuates any residuals above 100 kHz.
As well, there are two additional digital filtering functions, one that includes noise shaping for improved in-band low level linearity as well as another one that provides effective filtering of extremely low frequency infrasonic signals (stop band is DC~1.7 Hz). All three digital filtering functions are controlled by dedicated buttons on the remote, with last memory function that retains the settings during disc changes and even when the player is powered down.
SACDM2 Optical Drive Mechanism for Accurate Disc Readout
For optimum disc readout accuracy, the SA-11S3 is equipped with our latest generation SACDM2 optical disc drive mechanism, which provides solid rotational accuracy with both CDs and SACDs, and features a dual layer stainless steel/steel top plate, and the whole mechanism is securely anchored to the dual layer base plate via its own solid metal sub-chassis. For maximum shielding from RF interference, the chassis is copper-plated throughout.
Exclusive Output Technology Ensures Faithful Playback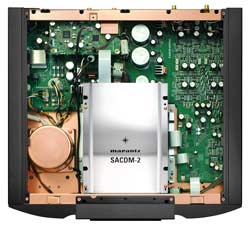 The sophisticated fully differential analog output stages feature our exclusive HDAM SA2 and HDAM technologies, which dispense with the traditional IC op amp chips in favor of pure discrete circuit elements for the most accurate and musically honest reproduction. Both balanced (XLR) and unbalanced outputs are provided, and the unbalanced (RCA) jacks feature high purity solid copper cores that are gold-plated for optimum signal transfer.
Multiple Ports for Versatile Connectivity

Digital versatility is the hallmark of the SA-11S3, as the player does double duty as a reference quality DAC and is equipped with numerous digital interfaces to accept a wide variety of formats. The front panel features a USB-A port for connection to a portable device such as an iPod, iPhone, iPad and the like, as well as compatibility with other devices. There's also a USB-B port on the rear panel, which provides compatibility with a wide range of digital formats, including up to 192 kHz/24 bit digital audio, and is compatible with asynchronous data streams from a computer (drivers are available for download on our website). In addition, there are coaxial and optical digital input ports for connection to other digital audio sources.
Rugged, Durable Construction

Weighing in at a substantial 37 pounds, the SA-11S3 features a rugged chassis that includes a newly designed 5mm thick aluminum top cover that allows stacking, even with heavy components, and the gorgeous front panel includes a full alpha-numeric display with ultra low noise LCD technology, which provides detailed operational information along with SACD text. The newly designed remote control features hairline metallic finish and provides a full suite of commands compatible with the matching PM-11S3 Reference Series integrated amplifier for easy single remote system control.
SA-15S2B Limited SACD Player
For those driven by a search for the best in home music, the Marantz SA-15S2 Limited offers Reference Series reproduction of all your treasured Compact Discs and Super Audio CDs. The Limited is infused with audiophile-grade components, re-voiced for greater speed and harmonic balance, and boasts a gorgeous, black anodized aluminum enclosure. A Marantz designed, linear power supply anchors this premium component with an outsized torroidal transformer to provide the voltage stability and freedom from noise that are necessary for the very best audio performance. An advanced transport mechanism employs resonance-resistant Xyron (composite) components and is mounted to a heavyweight aluminum billet base. The SA-15S2 Limited utilizes the superb Cirrus Logic CS4398 high-current DAC with 24-bit/192 kHz resolution for music reproduction with the speed and immediacy of a live performance; selectable interpolation filters allow for a slight tailoring of the response to suit individual systems, while an optical input allows for the use of external digital sources. Special audiophile-grade decoupling capacitors help deliver crisp, clean power to these all-important DAC stages for enhanced transparency and a jet-black background. HDAM SA2 modules are utilized throughout the analog output stage for wide dynamic range and the best possible fidelity. Audiophile-grade copper foil film capacitors and metallic film resistors are employed at critical points in the topology to further enhance performance.
TT-15S1 Belt Drive Turntable with Cartridge
MSRP : $1,499.99
Analog recording is still very alive. Quality turntables are still in demand. Digital discs simply set new performance standards that turntables must meet. Many cherished records may never be issued on digital formats. Good turntables are now more important than ever. Marantz embraces an audiophile quality turntable with AC servo belt-drive and low-coloration tone arm to answer the need for a high performance source component for the analog record.
Low-Resonance High-Density Acrylic Chassis and Platter
Floating Motor Mount Construction
Asynchronous AC Motor
Belt Drive System with Endless Silicon Belt
Anodized Aluminum Straight Type Tone Arm
Magnetic Type Anti-Skating Mechanism
Fine Adjustable Counter Weight
Solid Aluminum 3 points Support Feet
Wood Base, High Quality MM Cartridge
"Clever Clamp" by Souther Engineering
Extended Warranties Available!
---

ORDERING ONLINE
click here!
ORDERING BY PHONE
If there is no authorized dealer in your area you can order directly from Soundscape with a 10-day, satisfaction, money-back guarantee.
US and Canada, 1-800-450-HIFI (1-800-450-4434)
Outside the US and Canada, (707) 578-4434
Monday - Friday 11:00 AM - 7:00 PM (PST)
Fax: (707) 578-4436
---
Last Updated: October 21, 2012
---




---


1044 Fourth Street, Santa Rosa, CA 95404
Phone/707-578-4434 or 800-450-HIFI
marcs@sonic.net