If you're considering purchasing a Marantz product over the internet, protect yourself by going to Marantz Audio's Dealer List Site at http://us.marantz.com/us/Dealer/Pages/DealerListing.aspx Avoid any un-authorized dealer as you forfeit your warranty protection and perhaps a lot more. Don't take the risk of being ripped off!
The refined array of circuit innovation inside the PM8004's chassis are all devoted to one goal – more natural music reproduction.
One of the first things you'll notice about the PM8004 is the front panel's TriTone tone controls. Tri-Tone adds a midrange control to the more conventional bass and treble adjustments. Tri Tone actually dates back to Marantz's 1954 Model 1 Preamplifier and is even more useful today to correct frequency imbalances that often characterize compressed music sources such as iPods.
Specified by Marantz engineers, a large torroidal transformer is the foundation for the PM8004's power supply. Its circular shape and double shielding helps control stray magnetic fields that could adversely affect sound quality
The PM8004 also benefits from a wide array of parts carefully selected only after extensive laboratory evaluation and listening-room audition. This process, call Sound Tuning, assures you of optimal performance.
The 70 watts per channel (8 ohms) amplifier section delivers high instantaneous current so musical peaks retain their full dynamic range. The PM8004's mechanical and electrical aspects are designed to minimize the length of power supply lines and their potential interference. Individual power supply segments are located on the same heat sinks as the output transistors. The benefit is that the PM8004 responds instantly and crisply to musical transients that lesser amplifiers would simply blur.
For critical listening, the PM8004 includes a "Source Direct" switch that bypasses balance and tone control circuits for pristine reproduction.

PM6004 Integrated Amplifier
MSRP : $599.99
With its impressive array of inputs and outputs, the Marantz PM6004 Amplifier offers an ideal way to consolidate all of your audio devices. The amplifier features exceptional audio engineering, allowing it to amplify sound without loss of fidelity or balance. It also has a phono input, so you can enjoy music from your turntable on traditional stereo speakers. And with Marantz's audio technologies, this device is sure to please even the most discerning listeners.
Marantz PM6004 Amplifier
At a Glance:
Discrete preamp and power amplification circuits offer superior audio performance


Five line inputs and two line outputs allows connectivity with multiple devices


Phono input for connections to turntables


Intuitive control panel and remote control provide easy access to basic functions


Three-year warranty
SA8004- Super Audio CD Player and USB DAC
MSRP : $999.99
Eliminating Vibration Equals Better Sound
Part of the magic lies in a new disc mechanism; featuring a Xyron disc tray, this precision engineered drive virtually eliminates micro-vibrations to allow the digital circuitry to process a more accurate data stream. This, in turn, translates directly into a more coherent and pleasing sonic experience.
The Marantz SA8004 extracts extraordinary performance from all your discs – SA-CDs, CDs, even MP3- and WMA-encoded CD-Rs and –RWs are delivered with fresh perspective.
Hard disc and Web-based Media
Front and rear panel USB inputs expand your musical horizons as never before. Now you can enjoy your iPhone and iPod audio files via a digital connection and hear them anew though your audio system courtesy of the SA8004's advanced circuitry.
You'll appreciate the fact that both the front panel USB "Type A" input and the rear panel USB "Type B" input support 24-bit files at sampling rates from 32 to 96 kHz for high fidelity playback of all your on-the-go music. In addition to your iPod and iPhone files, you can "push" high definition digital music files from your computer to the SA8004. If you use either the coaxial or optical rear panel digital inputs, the SA8004 handles 24-bit PCM data at sampling rates up to 192 kHz.
The SA8004 also accepts data from any USB stick or USB hard drive storage device.
Flexible Digital Outputs
The SA8004 includes two rear-panel digital outputs. These outputs provide an S/PDIF signal even when the USB input is receiving iTunes music files.
Extraordinary Sound Quality
You'll find high quality parts throughout the SA8004. Chosen only after extensive listening tests, they contribute exceptional performance levels to critical circuits.
In the analog section, Marantz-proprietary HDAM SA2 circuits handle critical buffering and stage-to-stage signal transition. Symmetrical signal traces help maintain perfect synchronization between Left and Right channels for rock-stable imaging and a convincing soundstage.
An impedance-matching copper plate inside the rear panel just behind the analog outputs improves signal-to-noise performance and channel separation to preserve the SA8004's outstanding imaging capabilities.
A shield around the digital outputs is but a further detail in Marantz's quest for quieter operation as it prevents digital noise from affecting sensitive analog circuits. Known to produce less stray magnetic leakage that can otherwise increase noise in analog circuits, Marantz engineers chose a high capacity toroid transformer for the SA8004's power supply. To suppress the noise even further, Marantz engineers specified an exterior casing with large non-conductive brass mounting screw to hold the transformer in place.
While it meets the digital-convenience demands of today's music lover the SA8004 also delivers sound quality that speaks to Marantz' leading position in the world of high end audio. Indeed, the SA8004 represents a rare marriage of current feature-set with high performance audio circuitry
The D/A Converter
The Cirrus CS4398 D/A Converter offers advantages. For SA-CD playback, the Cirrus IC accepts the SA-CD's 2.8224 MHz sampling rate directly without the need for any preconditioning, and the integral 50 kHz low-pass filter protects subsequent circuitry from potential oscillation.
Better Headphone Listening
The headphone output includes a high-speed current buffer circuit for minimal interference with the main audio output circuit, maximum articulation, stability, and fatigue-free listening.
Final Features
Complete with a soft-touch Power/Standby switch and full-function remote, the SA8004 brings top-shelf disc playback to a wider audience than ever before. A true Marantz, it contains the most advanced circuits in a chassis that's highly styled to blend with any décor. It's a stunning contemporary expression of the Marantz "look," long the standard for the entire home entertainment industry. And for those of you that rack your equipment, our RMK8754MSP rack kit will be available shortly.
In short, the remarkable SA8004 sets a new standard for audiophile-grade reproduction of your music – regardless of where it came from. That's flexibility. That's Marantz.
CD6004 CD Player
Through the use of audiophile-grade components and proprietary circuit topologies, the Marantz CD6004 Compact Disc Player reproduces your CDs with superb quality. When connected to a good set of speakers or headphones, it delivers a satisfying balance of bass, midrange, and treble that is sure to please music lovers. The Player's USB input makes it easy to connect an iPod or other MP3 player to enjoy your entire digital music library.
Marantz CD6004 Compact
Disc Player
At a Glance:
Plays CDs, CD-Rs, and CD-RWs


Advanced audio circuitry ensures crisp, faithful sound reproduction


Current buffer design and symmetrical layout for superior audio performance


Reads multiple audio file formats, including MP3s, WMAs, and PCM


Multiple inputs and outputs to connect to MP3 players, AV receivers, and more


Three-year warranty
CC4003 5-Disc Carousel CD Changer
MSRP : $399.99
If you want the playback flexibility of a carousel changer, the playback quality of a Marantz single-disc player, and all the features that make a unit extraordinarily easy to integrate into a custom-installed system, look no further. The CC4003 answers all your needs.

Behind the CC4003's new sculptured front panel lies a 5-disc CD carousel mechanism and a host of features that make this player ideal for long-term use as a single player in a home system or part of a "whole house" system where multiple zones reproduce individually selected playlists. Indeed, the CC4003 – either alone or in multiples – is perfectly suited for these roles.
Beginning with the front panel, you'll notice immediately that the CC4003 has the same curved look that distinguishes all current Marantz products. Elegant and simple, the CC4003 augments any décor while the metal + resin composite adds strength.
The CC4003 adds WMA file playback to its predecessor's MP3 capability. So your CD-Rs and CD-RWs will play without incident. Programming capability is extended to 50 tracks for additional flexibility. And fixed-speed forward and reverse scan makes it easier to find your favorite track.
Whatever CD you choose to play, the CC4003 employs a high performance Cirrus Logic stereo D/A converter. The same converter used in some Super Audio CD players, the CS4392 produces a rich, lifelike soundfield that's far more convincing than the anemic reproduction from so-called competitive units.
Even though the CC4003 is a "carousel" changer, you can access any disc by pushing buttons on the front panel or remote controller. For even more convenience, you can replace up to three discs while one is playing.
A headphone jack with independent volume control means you can enjoy private listening any time without disturbing other household members or your neighbors even when you want to "rock your head".
In addition to gold-plated analog outputs, you'll find both coaxial and optical digital outputs so you can add the CC4003 to any system.
And integration into any system is easy, too. First, there's a bi-directional RS-232C connector so you can use a touch-screen system controller if you're so inclined. And there are RC-5 input and output jacks and an IR flasher input, in addition to a detachable AC cord. All in all, the CC4003 is ideally suited for the small spaces common to custom installations.
Thinking of using more than one CC4003 in the same system? No problems there as you can set each one (up to five) to respond to a specific set of command codes so you can control each one individually. As for mounting a CC4003 in an equipment rack, simply choose the available RMK4003CC rack-mount kit.
So get ready to enjoy the convenience of a multi-disc player – or several of them – and the sound quality of a Marantz. After all, that IS why you're looking at Marantz, isn't it?
TT42 & TT42P
MSRP : $329.99 & MSRP : $359.99
Combining classic turntable design with modern audio technologies, the Marantz TT42 Turntable plays back your vinyl collection with stunning audio quality. This turntable features a fully automatic mechanism that plays records with a touch of a button. A low-coloration tone arm, DC servo motor, and belt drive ensure pristine, interference-free playback.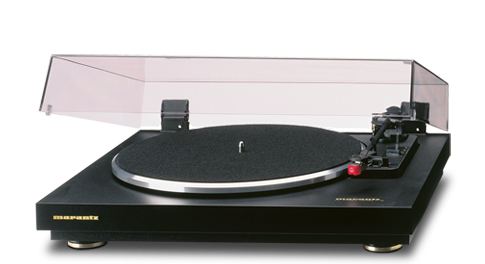 Marantz TT42 Turntable
At a Glance:

Fully automatic mechanism plays records with the push of a button


Low-coloration tone arm and matched magnet cartridge reduce distortion


DC servo belt drive eliminates hiccups during playback


Three-year warranty

Marantz TT42P Turntable
At a Glance:

Built-in phono preamp works with receivers that lack a phono input


Fully automatic mechanism plays records with the push of a button


Low-coloration tone arm and matched magnet cartridge reduce distortion


DC servo belt drive eliminates hiccups during playback


Three-year warranty
SR4023 Stereo Receiver
MSRP : $499.99
Your first glance at the SR4023 stereo receiver reveals a sophisticated three dimensional front panel design first seen on our Reference Series components. And that's not just for looks either. Instead, the combination aluminum and fiberglass-reinforced resin panel shields internal circuitry as it absorbs unwanted resonances that might influence sound quality.
The next thing you'll notice is the simple, non-intimidating design – this is the ideal receiver for a smaller one-room music system. Or for a sub-zone in a whole-house audio distribution system.
The large EI core transformer and oversized capacitor bank comprises a rock-solid foundation that feeds all the internal circuitry. The fully-discrete amplifier develops 80 continuous watts per channel so you won't lack for power even when your system is really wailing.
But if you're hungry for more, the SR4023's preamp out/main amp in jacks allow easy connection of a brute-force power amplifier. A separate low-pass preamp output lets you add the powered subwoofer of your choice as well.
Screw-type connectors for two sets of speakers assure tight contact, regardless of wire size.
And when was the last time you saw a high quality phono preamp in a receiver? Well, look no further than the SR4023's moving magnet input. Here's convenience that'll fuel any vinylholic's dream.
A stereo receiver with video switching capability? You can connect up to four composite video sources to your SR4023; send your choice to a monitor for immediate viewing or to a video recorder to preserve events for the future.
The feature list doesn't end there, either. For custom installations, the SR4023 includes an RS-232 bi-directional communications port so you can use an advanced touch screen control system. And you can choose any of the three infrared command code sets that let you build your whole house system around three SR4023s. A detachable AC cord helps ease the SR4023 into tight spaces. An infrared flasher input lets you route IR signals to it even if your SR4023 is in a closet or cabinet.
If you're concerned that someone might change your carefully chosen settings, the SR4023's Front Key Lock disables all front panel controls except for Power/Standby. But you'll still have full access to all functions with your hand held remote controller.
With a full complement of features, typical Marantz dedication to sound quality, and an easy-to-use interface, the SR4023 stereo receiver takes its place as the ideal choice for those who like exceptional performance without compromise or complexity. If that describes you, this is one receiver you must listen to. After all, isn't that what Marantz is all about?
NA7004 Network Audio Player and USB DAC
MSRP : $799.99
The NA7004 makes your home entertainment world far, far larger than you imagined. The NA7004 connects to your home network, interfacing with other connected components while putting you in touch with virtually everything on the web. It gives you easy ways to listen to the music you've already stored on an iPhone or other portable music player, and stream audio from a wide variety of sources. You may also enjoy music from your Bluetooth-enabled devices wirelessly with the optional RX101 module.
M-DAX2
Concerned about listening to compressed audio from a portable source or wireless connection? Don't be. Marantz's exclusive M-DAX2 circuit restores often-missing high frequencies to make your entire digital music collection fully listenable.
Streaming Media Access the world of Internet streamed media through various user interfaces and software. For example, you can choose from 1000s of Internet radio stations with vTuner. Listen to your favorite music through Rhapsody, Napster, and Pandora. In other words, connect!
Hard disc and Web-based Media
Front and rear panel USB inputs expand your musical horizons as never before. Now you can enjoy your iPhone and iPod audio via a digital connection and hear them anew though your audio system courtesy of the NA7004's advanced circuitry. USB connectivity supports 24-bit files at sampling rates from 32 to 96 kHz for high fidelity playback of all your on-the-go music.