Soundscape Product Information
---
Line Stage Preamp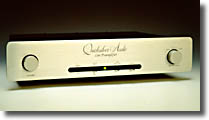 The Quicksilver's New Line Stage Preamp embodies the Quicksilver philosophy of simplicity. It uses only one triode tube section of a 12AX7 per channel, resulting in a very direct sound. Improved distortion, and 100 ohm output capable of driving into amps with low input impedance down to 20K. It can also be used with long interconnect cable. A precision Alps attenuator, with 41 detents, is used for the volume control. Fourteen gold RCA jacks and a switched AC outlet are on the back of the unit. Gain is 18 db.
Remote Version Price $1595*
Price includes free freight anywhere in
the contiguous United States.
California residents please add 8.75% sales tax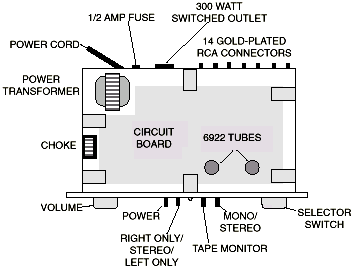 Changes on new preamp: 6922 tubes have been changed to 12AX7s
---
Specifications
Bandwidth 0.1 Hz to 60 KHz
Gain 18 db
Input Impedance 100 Kohm, 20 Hz-20 KHz
Output Impedance 100 ohm, 20 Hz-20 KHz
Maximum Input 30 volts RMS, 20 Hz-20 KHz
Maximum Output 65 volts RMS, 20 Hz-20 KHz
Tube Complement 2-6DJ8 or 6922
Dimensions 3"H, 9 1/2"D, 15"W
Front Panel 3 1/4"H, 17"W
Weight 12 lbs.
U.S. Warranty 3 years parts and labor
Tubes 90 days
---
---
CLEARANCE SALE
---
Call for Current Pricing
---
We accept



over the phone or by E-mail.
---
ORDERING BY PHONE
If there is no authorized dealer in your area you can order directly from Soundscape.
(707) 578-4434
---
Last Update: December 25, 2017
---


Audio & Video
4340 Secretariat Way, Roseville, CA 95747
Phone 707- 578-4434
marc@soundscapeav.com



E-mail Soundscape