Soundscape Product Information
---
Horn Mono Amp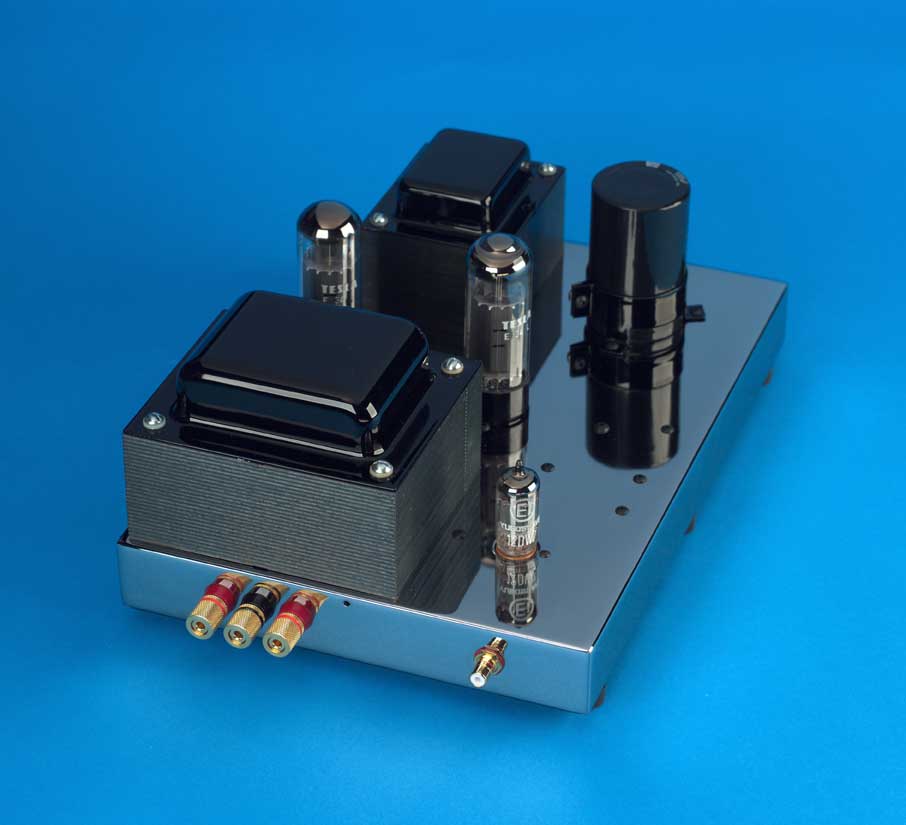 The Horn Mono Amplifier is designed specifically for use with very efficient loudspeakers. It has extremely low noise and distortion and approximately 18 db less gain than Quicksilver's standard amplifiers. This avoids the noise and gain problems that normally appear when using horn speakers. The amplifier is designed to sound good at the extremely low levels (milliwatts) that horn loudspeakers require. Many amplifiers actually have higher distortion at these low levels.
As with all Quicksilver amplifiers many different output tubes may be plugged in directly with no adjustments: matched pairs of EL34, KT90, KT88, KT77, KT66, 6550 or 6L6 output tubes. The power supply has over 100 joules of storage and the power cord has an IEC connector. 25 watts into 4 or 8 ohms.
Price $1895/pair
Price includes free freight anywhere in the contiguous United States.
California residents please add 8% sales tax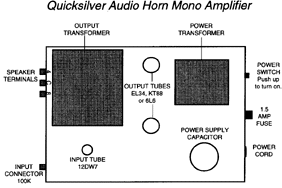 ---
Specifications
Power Output 25 watts into 4 or 8 ohms
Power Bandwidth 9 Hz to 100 KHz
Peak Power 50 watts Input
Sensitivity 9 volts Input
Impedance 100 Kohms
Tube Complement two EL34s, one 12DW7
Chassis Chrome over nickel
Dimensions 6"H, 14 3/4"D, 9 1/4"W
Weight 30 lbs. each U.S.
Warranty 3 years parts and labor Tubes 90 days
---
CLEARANCE SALE
---
Call for Current Pricing
---
We accept



over the phone or by E-mail.
---
ORDERING BY PHONE
If there is no authorized dealer in your area you can order directly from Soundscape.
(707) 578-4434
---
Last Update: December 25, 2017
---


Audio & Video
4340 Secretariat Way, Roseville, CA 95747
Phone 707- 578-4434
marc@soundscapeav.com



E-mail Soundscape