Soundscape Product Information
---
Draper
We offer many screens manufactured by Draper Inc, a company known for their quality workmanship and innovative products. If you have any questions about these portable screens, you can email us, or you can visit Draper's web site at www.draperinc.com.
---

Introduced at this year's INFOCOMM!
Road Warrior

The Traveling screen for today's presenters!
Lightweight
Easy to carry
Durable
Built-in carrying handle
Case is made of extruded aluminum.
Clean, simplified design.
Surface raises at the touch of a finger.
Available in 60 or 80 inch diagonal NTSC .
Surface specifically designed for today's computer presentations and high resolution requirements.

Consul
Economy and Durability

Lightweight, yet durably constructed, the Consul is designed for educational audio-visual use. Cylindrical steel case and end caps finished in black (standard), dove gray, or white. Features FabrikLok steel roller (prevents fabric separation from roller) and Bell Leg Lock. Keystone eliminator and carrying case are optional. Choice of fiberglass matt white, glass beaded, or silver lenticular viewing surfaces.


Diplomat
The Finest Tripod Screen in the World

Simplicity of design, heavy gauge components, and careful workmanship combine to make the Diplomat the world's finest tripod screen. Patented Bell Leg Lock eliminates bent and broken tripod legs. Built-in keystone eliminator disappears when not in use. Sturdy steel case and end caps finished in black (standard), dove gray, or white. Optional leatherette carrying case. Choice of fiberglass matt white or glass beaded viewing surfaces.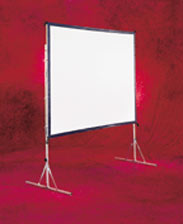 Cinefold
Portable Folding Projection Screen

Need to take a show on the road? Cinefold comes in virtually any size, folds into a small ABS carrying case, and sets up in minutes without tools. Available with matt white for front projection or Cineflex rear projection vinyl or both for maximum versatility. Folding aluminum frame, legs, surface, and carrying case are standard equipment. Velour dress kits and Pipe & Drape Runoffs available. Custom sizes available.
---
Aero Mounts for Projectors and Plasma Screens
Motorized Screens

Electric Screens

IRUS Rear Screen Technology
Traveling Screens
Easels
Call for Prices on specific Models, Sizes and Screen Materials.
---

We accept



over the phone or by E-mail.
---
ORDERING ONLINE
click here!
ORDERING BY PHONE
If there is no authorized dealer in your area you can order directly from Soundscape with a 10-day, satisfaction, money-back guarantee.
(707) 578-4434
Monday - Friday 12:00 AM - 5:00 PM (PST)
---
Last Update: November 3, 2016

---


Audio & Video
8499 Old Redwood Dr.#206, Windsor, CA 95492
Phone 707- 578-4434
:marc@soundscapeav.com



E-mail Soundscape