Soundscape Product Information
---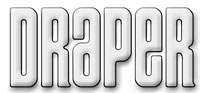 Revelation - Keeps the projector and noise above the ceiling!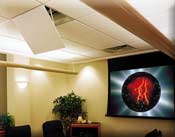 You won't see or hear the projector—not before, during, or after the presentation. You'll only see a hinged door in the ceiling. It requires less space than other ceiling-recessed projector mounts. Your single lens projector sits in a pan above the ceiling and projects its image onto a highly reflective first surface glass mirror, then to a second mirror located on the door. When the door is lowered into the room, the image is projected onto the screen. After the presentation, the door retracts and blends into the ceiling.
.
Scissor Lift
The Scissor Lift not only conceals your projector above the ceiling and sets it exactly where you need it at presentation time, it also brings it down to within easy reach for service. Choose from seven models with service positions ranging from 4 to 15 feet. Scissors on the left, right and back sides of the unit stabilize the projector from any sway both laterally and front–to–back resulting in quiet, fluid movement. Video and LCD projectors can be bolted directly to the lift's bottom pan or mounted with the projector's standard ceiling bracket.



ElectraMount
This motorized ceiling recessed projector lift hides and protects your video projector when not in use. With 5 models from which to choose, it can accommodate almost any projector up to 300 pounds.

LCD Lift
Bomb bay doors and a slim cross-section are distinguishing features of this lift. With its aluminum housing and doors finished in ceiling white, it contains a current sensor that requires the projector to cool before retracting. Two 110v power outlets are also built-in. It can accommodates projectors up to 16" x 23" x 23" weighing less than 65 lbs.




UniMount
The ceiling closure lowers in parallel with the projector and traveling grid. It is compact, requiring only 19½" of headroom above the ceiling. With a lifting capacity of 175 lbs, the unit is entirely self-contained for simplified installation.
Aero Mounts for Projectors and Plasma Screens
Motorized Screens

Electric Screens

IRUS Rear Screen Technology
Traveling Screens
Easels
Call for Prices on specific Models, Sizes and Screen Materials.
---
Our Business Hours are:
Monday - Friday 10am to 7pm Pacific Time
Saturday 12pm to 5pm.
We are closed on Sunday!
---

We accept



over the phone or by E-mail.
---
ORDERING ONLINE
click here!
ORDERING BY PHONE
If there is no authorized dealer in your area you can order directly from Soundscape with a 10-day, satisfaction, money-back guarantee.
(707) 578-4434
Monday - Friday 12:00 AM - 5:00 PM (PST)
---
Last Update: November 3, 2016

---


Audio & Video
8499 Old Redwood Dr.#206, Windsor, CA 95492
Phone 707- 578-4434
:marc@soundscapeav.com



E-mail Soundscape