Soundscape Product Listing
---

---
T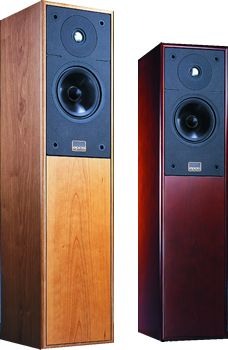 he new M15.2 remains faithful to the spirit of Epos with the emphasis on musicality and communication, and follows closely the style of the successful but short lived 2-way floor standing ES15 and also borrows heavily on the award winning ES12 drive unit design..
Epos Acoustics proudly announced the world launch of a new model, the M15.2 loudspeaker, at CES2000 in Las Vegas and will be demonstrating it for the first time in Europe from the 1st to the 4th June at the Frankfurt Hi-End Show.
The M15.2 has been designed to be part of a more extensive Epos Home Theatre system. However, it will also be perfect as a high performance 2 channel floor standing monitor.
The M15.2 features an 25mm aluminum dome tweeter designed in-house, using a high efficiency shielded magnet system, to improve sensitivity, transient response and reduce smearing. This improves imaging and enhances the pace, rhythm and timing characteristics that have become Epos hallmarks.
The well established Epos 150mm bass/midrange driver has a custom injection molded cone piston, precision profiled to improve transient response and integration with the tweeter without the need for a complicated crossover. In addition it has now been fitted with an additional bucking magnet and shielding can for use in 'Home Theatre' systems.
The cabinet is a low diffraction design, eliminating secondary sources of sound, improving stereo imaging and detail resolution. Extensive internal bracing reduces cabinet coloration and a gas-flowed reflex port is used to reduce turbulence. It comes with four 8mm heavy duty floor spikes, to reduce mechanical resonance's.
In true Epos tradition only two components are used in the crossover with the performance of the bass/mid driver being controlled mechanically. This results in a level of detail, resolution and communication unheard in a loudspeaker of this class.
Michael Creek, CEO, says, "The M15.2 is part of a remarkable line of new Epos loudspeakers, designed to exploit years of former Epos research and using sound engineering principles to enable greater flexibility. I am delighted with the end result and am confident that other music lovers will agree."
Specifications
| | |
| --- | --- |
| Power Handling | 100 Watts |
| Frequency Response | 50Hz - 20kHz |
| Impedance | 8 ohms Nominal |
| Sensitivity | 88dB/1 watt/1 meter |
| Driver Bass | 150mm |
| Tweeter | 25mm aluminum dome |
| Crossover | 6dB/octave on tweeter |
| Cabinet | 24mm MDF |
| Dimensions | 825mm(H) 200mm(W) 250mm(D) |
| Weight | 16.0 kg |
| Connection | Gold plated screw terminals with bi-wiring links |
| Finish | Light Cherry or Dark Cherry wood veneer. |
New Features
New one piece wood veneer.

New gold tweeter dome.

New shielded drivers for AV.

New speakers terminals.

New build construction
---
We accept



over the phone or by E-mail.
---
ORDERING ONLINE
click here!
ORDERING BY PHONE
If there is no authorized dealer in your area you can order directly from Soundscape with a 10-day, satisfaction, money-back guarantee.
(707) 578-4434
Monday - Friday 12:00 AM - 5:00 PM (PST)
---
Last Update: November 1, 2016

---


Audio & Video
8499 Old Redwood Dr.#206, Windsor, CA 95492
Phone 707- 578-4434
:marc@soundscapeav.com



E-mail Soundscape