Soundscape Product Listing
---

---
ELS M8 Center Channel
The M8 center channel speaker is the perfect choice for any combination of M series models...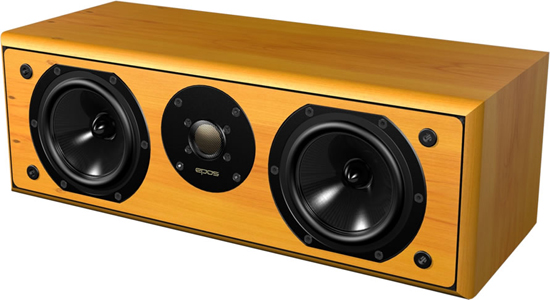 EPOS Speaker: M 8, Center Channel Epos has approached the home theater market with the design of its M8 center channel speaker exactly as you would expect - with no compromise in sound quality.
Designed to complement the new M5 bookshelf speaker system, the center channel is both elegant and functional. Available in a choice of dark cherry, light cherry or black, the front baffle of the M8 is also finished in real wood making this center channel a stylish addition to any system.
The final design of the M8 has incorporated an unusual and acoustically advanced crossover which reduces the colouration when two mid/bass units are in close proximity to each other.
Featuring two woofers either side of a central tweeter, these drive units are isolated one from the other in sealed enclosures of equal volume. The drive units are the same as those used in the M5 bookshelf model. The resulting performance is exceptional, exactly as you would expect from Epos and undoubtedly justifies the engineering time which has gone into this product.
Specifications
| | |
| --- | --- |
| Power Handling | 100 Watts |
| Frequency Response | 65Hz - 20kHz |
| Impedance | 8 ohms Nominal |
| Sensitivity | 87dB/1 watt/1 meter |
| Amplifier Compatibility | 25 - 100 Watt |
| Biwire Terminals | Yes |
| Configuration | 2 Way Center Channel |
| Driver Bass | 2 x 130mm |
| Tweeter | 25mm aluminum dome |
| Crossover | 6dB/octave on tweeter |
| Cabinet | 24mm MDF |
| Dimensions | 510 x 174 x 210 |
| Weight | 8.8 kg |
| Connection | Gold plated screw terminals with bi-wiring links |
| Finish | Vinyl wrap Light Cherry |
---
We accept



over the phone or by E-mail.
---
ORDERING ONLINE
click here!
ORDERING BY PHONE
If there is no authorized dealer in your area you can order directly from Soundscape with a 10-day, satisfaction, money-back guarantee.
(707) 578-4434
Monday - Friday 12:00 AM - 5:00 PM (PST)
---
Last Update: November 1, 2016

---


Audio & Video
8499 Old Redwood Dr.#206, Windsor, CA 95492
Phone 707- 578-4434
:marc@soundscapeav.com



E-mail Soundscape