Soundscape Product Listing
---

---
ELS M12 Book Shelf Speakers
The Epos M series loudspeakers evolved from the time honored ES range of the eighties and nineties and until recently the M12 was the entry level speaker for the range. This speaker was first designed in 1999 and December 2003 sees the introduction of its successor the M12.2.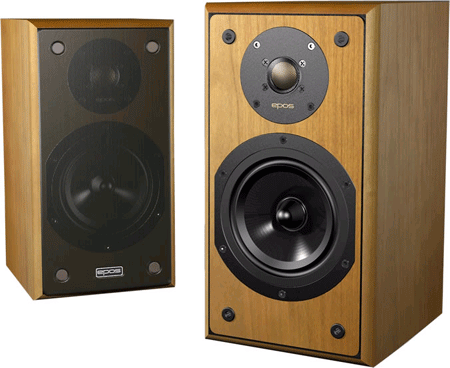 AV Review Group Test Winner
EPOS Speakers M12.2 Still, in a closely fought contest we've decided it's Epos's M12.2s that are left as the last speakers standing. Simplicity reigns supreme and it's the M12.2's easily listening appeal and all-round ability based on clarity and cohesive timing that wins the day - not to mention the attractive price. It's not difficult to understand why Epos's M range has picked up so many awards and the M12.2s can compete as class leaders against many more expensive speakers.
This compact two way stand-mount is quite simply a classic a genuine class act... Still a two way bass reflex design, the M12.2 features a 150mm woofer complete with phase plug. Replacing the plastic chassis used in the original M12 is the all new Epos die cast chassis.
The tweeter used in the M12.2 is a 25mm aluminium dome with ferrofluid cooling and neodymium magnet system. There is provision for bi-wiring and thoughtfully the speakers are supplied with a set of foam bungs for the rear port to allow tuning of the speakers response to the particular room in which they are situated.
The real wood veneer cabinet, available in a choice of light cherry, dark cherry or black, is beautifully finished and the metal grille can be easily removed if desired.
Listening to the new M12.2 is a delight. If used in a home cinema application, the addition of M5 speakers for rear channel use together with the M8 center channel guarantees a home theater speaker system of the highest calibre. When placed on the optional ST12 open frame stands designed for this particular model, it is said they perform at their best.
Specifications
| | |
| --- | --- |
| Power Handling | 120 Watts |
| Frequency Response | 60Hz - 20kHz |
| Impedance | 8 ohms Nominal |
| Sensitivity | 87dB/1 watt/1 meter |
| Amplifier Compatibility | 25 - 150 Watt |
| Biwire Terminals | Yes |
| Configuration | 2 Way |
| Driver Bass | 150mm |
| Tweeter | 25mm aluminum dome |
| Crossover | 6dB/octave |
| Cabinet | 24mm MDF |
| Dimensions | 200 x 575 x 250 |
| Weight | 8 kg |
| Connection | Gold plated screw terminals with bi-wiring links |
| Finish | Wood Veneer |
---
We accept



over the phone or by E-mail.
---
ORDERING ONLINE
click here!
ORDERING BY PHONE
If there is no authorized dealer in your area you can order directly from Soundscape with a 10-day, satisfaction, money-back guarantee.
(707) 578-4434
Monday - Friday 12:00 AM - 5:00 PM (PST)
---
Last Update: November 1, 2016

---


Audio & Video
8499 Old Redwood Dr.#206, Windsor, CA 95492
Phone 707- 578-4434
:marc@soundscapeav.com



E-mail Soundscape