Soundscape Product Listing
---

---
ELS 3C Center Channel
Designed to complement the ELS 3 mini monitor speakers, this new center channel will propel Epos into the home cinema market..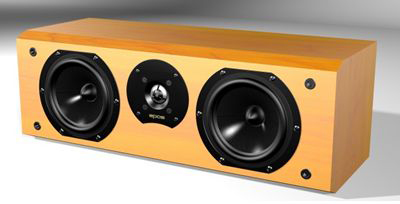 The Epos ELS 3C center channel utilizes the same drive units as the ELS 3 and is therefore ideally matched for use in a home cinema application.
Featuring a 25mm metal dome tweeter with neodymium magnet, together with two 5 ½" woofers, this center channel uses a new die cast aluminium chassis with a cone and surround similar to that being used in the M5 woofer. The Epos logo is embossed on the tweeter faceplate
In designing this center channel, the have introduced an unusual and acoustically advanced crossover which reduces the colouration when two mid/bass units are in close proximity to each other.

Epos ELS Tweeter
The new Epos Swift tweeter uses a 25mm diameter, 40 micron thick, aluminium alloy diaphragm, terminated by a Polyamide suspension. This combination reduces colouration and enables the driver to handle high power without distress. A vented voice coil and magnetic liquid Ferro fluid cooling system improves its power handling ability and helps to smooth its frequency response. Rear cavity loading and a high efficiency Neodymium magnet system focus its transient response and eliminate temporal smearing, giving the Swift impeccable pace, rhythm and timing.
Epos ELS Midrange
The Lightning ELS 130mm midbass driver uses a robust 130mm diameter diecast aluminium chassis, similar to the larger 150mm driver and M130 midbass driver. The cone piston is made from an injection moulded polymer. The rigid chassis provides exceptional detail resolution transient response while the cones unique tapered profile gives improved performance over its bandwidth with the Swift tweeter... The driver will handle high levels cleanly without producing colouration or distortion. The cone piston is terminated with a specially designed positive roll front suspension. A ventilated woven spider rear suspension has been optimized to suit the desired frequency response characteristics of the driver.
Specifications
| | |
| --- | --- |
| Power Handling | 100 Watts |
| Frequency Response | 50Hz - 20kHz |
| Impedance | 8 ohms Nominal |
| Sensitivity | 87dB/1 watt/1 meter |
| Amplifier Compatibility | 25 - 100 Watt |
| Biwire Terminals | Yes |
| Configuration | 2 Way Center Channel |
| Driver Bass | 2 x 130mm |
| Tweeter | 25mm aluminum dome |
| Crossover | 6dB/octave on tweeter |
| Cabinet | 24mm MDF |
| Dimensions | 510 x 174 x 210 |
| Weight | 8.8 kg |
| Connection | Gold plated screw terminals with bi-wiring links |
| Finish | Vinyl wrap Light Cherry |
---
We accept



over the phone or by E-mail.
---
ORDERING ONLINE
click here!
ORDERING BY PHONE
If there is no authorized dealer in your area you can order directly from Soundscape with a 10-day, satisfaction, money-back guarantee.
(707) 578-4434
Monday - Friday 12:00 AM - 5:00 PM (PST)
---
Last Update: November 1, 2016

---


Audio & Video
8499 Old Redwood Dr.#206, Windsor, CA 95492
Phone 707- 578-4434
:marc@soundscapeav.com



E-mail Soundscape