Soundscape Product Listing
---

The Latest Advancements from Clear Audio Cartridges
Moving Magnet Cartridges
Moving Magnet Cartridges Clearaudio Moving Magnet Phono Cartridges are precision products that are held to the most stringent quality control standards. The patented assembly process is based on the newest technical advances. Through this process, we hand select materials that are held to the tightest tolerances. The mounting plate of the Alpha, Beta and Beta S cartridges are made of a special resonance free lead alloy material. The Virtuoso Wood uses a special "Fernambuk" wood mounting plate that is only available in the Bavarian Black Forest. Clearaudio Moving Magnet phono cartridges distinguish themselves in a long lifespan, and a replaceable cantilever. An extremely linear frequency response, and an exceptional dynamic response insure a very uniform soundstage. Clearaudio MM cartridges are compatible with virtually all tonearms.
---
Moving Coil Cartridges
Moving Coil Cartridges Combined with excellent Hi-Fi components, Clearaudio MC cartridges are playing a leading role in the high society of the world's best products for advanced music reproduction.
Only Clearaudio Moving-Coil (MC) cartridges have a complete symmetrical design: mechanically, magnetically and electrically - achieved by Clearaudio Tolerance Field Technology.
Almost immeasurable by any method other than the listening test (the most critical), Clearaudio found that the actual cartridge housing material can in fact be the final and most critical element in achieving ultimate resolution and inner detail. The result of this research - the Clearaudio-RF-Technic. Clearaudio cartridges achieve their exceptional performance with innovative design and advanced materials. All cartridges share the some basic layout featuring Clearaudio's patented Series Coil System, with coils mounted symmetrically in front and behind the cantilever Pivot.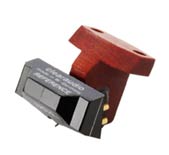 Insider Reference Wood
The Clearaudio "Insider Reference" cartridge represents the utmost performance that can be achieved using today's technical and mechanical design standards.
The "Insider Reference" is the top-of-the-line model in the Clearaudio cartridge line, designed for ultimate musical enjoyment. Many renowned manufacturers of state-of-the-art High-End equipment such as highly paid Music producers use the "Insider Reference" from Clearaudio as their reference cartridge.
As with all Clearaudio MC Cartridges, the "Insider Reference" uses the Clearaudio 24-Karat gold coil technology.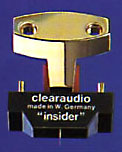 Insider Gold
Another rate of increase in searching for superior pleasure of listening to analogue records, is possible by testing Clearaudio's MC cartridge - The Accurate. Best precision in craftsmanship, utilizing the most innovative manufacturing and testing facilities available resulted in unprecedented quality and reliability, created a cartridge with particular non-measurable data (channel separation for instance). The body of the "accurate" has a hand-polished, heavy gold plated and tempered surface, showing the same technical precision like all other cartridges of the Clearaudio "family".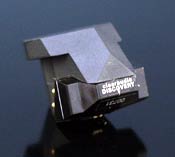 Dicovery
The Discovery features a custom magnesium body and the same unique design and construction as the other models. The motor features a boron cantilever and a pair of ultra-small-diameter gold coils that are wound directly onto the cantilever and positioned to either side of the pivot point, where they are said to act like a "laboratory balance". The cantilever is positioned between four very strong magnets. This type of construction helps provide superior mechanical and electrical and magnetical symmetry, which, among other advantages, results in exceptional channel separation.

Signature
The Signature is the most affordable Clearaudio moving coil incorporating the classic lead-alloy body design. Total Mass on the Signature is 12 grams. Recommended tracking force typical for pivoted tonearms is around 2.2 grams, and for linear tracking tonearms around 2.6 - 2.8 grams. Every Clearaudio moving coil cartridge is individually tested and includes a recommended tracking force for both linear (Max rating) and pivoted (Min rating) tonearms.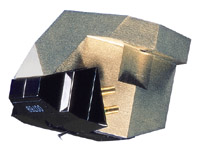 Victory H
Clearaudio's first of a series of MC cartridges that have specially machined and hand crafted bodies made of MgAlSi alloy. MgAlSi is a special light metal alloy, with excellent mechanical properties for its low mass. Its extremely hard surface and other qualities are beneficial when it comes to reproducing high resolution. Clearaudio has created a new aerodynamic shaped body with a total mass of only 8 grams. The total moving mass of the Victory cartridge is only 0,009 gram. These new alloy bodies will lend themselves to light to medium mass tonearms. Inside the new Victory are two 24karat gold coils.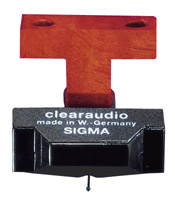 Sigma Wood
Sigma Wood The latest MC cartridge creation from Clearaudio also constructed from specially machined and hand-crafted wooden bodies. Fernambuk is a special wood normally used to build state-of-the-art violin bows. It's qualities and extremely hard surface are beneficial to high resolution. Because of the Fernambuk bodies these cartridges are a perfect match for light and medium weight tonearms.
The cantilever material will be Boron, which has been used by Clearaudio for the past twenty years. You will be surprised by this new cartridge's ability at tracking, its linearity, transparency and dynamics. Our latest venture should provide the user with many hours of listening pleasure.
---

We accept



over the phone or by E-mail.
---
---
ORDERING ONLINE
click here!
ORDERING BY PHONE
If there is no authorized dealer in your area you can order directly from Soundscape..
(707) 337-3355
Monday - Friday 12:00 AM - 5:00 PM (PST)
---
Last Update: April 18, 2019
---


Audio & Video
4340 Secretariat Way, Roseville, CA 95747
Phone 707- 337-3355
:marc@soundscapeav.com



E-mail Soundscape