Soundscape Product Listing
---

The Latest Advancements from Accessories
---
Clearaudio Matrix Record Cleaning Machine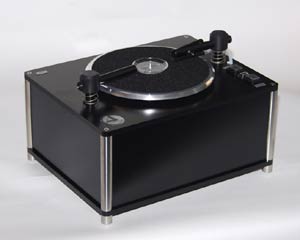 Cleaning and maintaining your irreplaceable record collection is a must. The Matrix is the long-term solution. From our research, we have built from the ground up a record cleaning machine using the highest quality parts. This insures that the Matrix is very quiet, effective and extremely durable. The record cleaning brush is user adjustable.
Cleaning fluid application is accomplished with an integrated pump system that applies the cleaning solution to the LP surface during the vinyl wash cycle. This special micro-fibre cleaning brush effectively scrubs the grooves to pick up every piece of dirt. The bi-directional platter allows complete coverage of the LP surface and deep cleaning into the groove during the scrubbing process. The vacuum pick-up system has two speeds to totally clean dirty records.
Soundscape Price: Black: $3,000, Clear: $3,750
Dustcover for Matrix, Sits on plinth $275
Everest turntable stand
New! The Clearaudio Everest turntable stand specifically designed to enhance the high performance level of the Master Reference and Maximum Solution turntables.
Designed to maximize the performance of the Master Reference and Maximum Solution turntables, this beautiful stand also compliments the appearance of either.
Soundscape Price: $8,000
Gold Plated Version: $10,000
Magix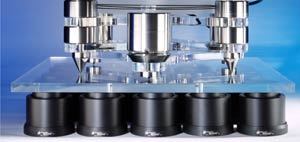 Why Magix?
The Magix offers a simple, effective and flexible solution with enormous isolation properties. The maximum weight each Magix can hold is 6kg (13 lbs). It is recommended that you use a minimum of three Magix per component.
You can use Magix directly under a component or under a platform on which the components sits (pictured above). What makes the Magix so special is the use of two opposing magnetic rings within a metal cylinder. There is no physical contact, only air between the two magnets, thus your component is really floating in mid-air. The outer housing of the Magix is made of a special resonance free material, further isolating your components from the unwanted resonance.
Another advantage of the Magix is adjustable height for leveling the component sitting on them. This is especially important for turntables and CD players. One can adjust the height of each Magix by simply rotating the ring on the bottom of each unit.
Soundscape Price: $300
Acrylic Cones

Resonance control for all hifi components. Noticeable improvements when used under loudspeakers and electronics. Precision turned plates to be used with Acrylic spikes for enhanced resonance control and to protect precious surfaces are also available. $35 Suggested Retail Price for each spike.
Soundscape Price: $35 each
Spike Plates (acrylic shoes) for use with cones. Soundscape Price: $8 each
Stainless Steel Plates Soundscape Price: $18 each
---
Protective Shield All audio components are subject to unwanted magnetic field interference. When using the Magix, you can further shield your components from the undesirable effects of this interference. The Magix, when engaged, cancels magnetic attraction. This is accomplished through precision manufacturing and meticulous hand selection and matching of the magnet ring pairs. retail price $200 each
---
Carbon Fiber Record Brush

Keeps you record free of damaging dust with this classic record brush. Do not touch it with your fingers as it will attrack body oils.
Soundscape Price: $30 each
---

We accept



over the phone or by E-mail.
---
---
ORDERING ONLINE
click here!
ORDERING BY PHONE
If there is no authorized dealer in your area you can order directly from Soundscape..
(707) 337-3355
Monday - Friday 12:00 AM - 5:00 PM (PST)
---
Last Update: April 18, 2019
---


Audio & Video
4340 Secretariat Way, Roseville, CA 95747
Phone 707- 337-3355
:marc@soundscapeav.com



E-mail Soundscape