Soundscape Product Information

---

Dynavector P-75 mk2 Phono Pre-amplifier and phono enhancer
The Dynavector P-75 Phono Stage is a unique entry level phono stage with several outstanding features that ensures the P-75 will out perform other phono stages costing considerably more..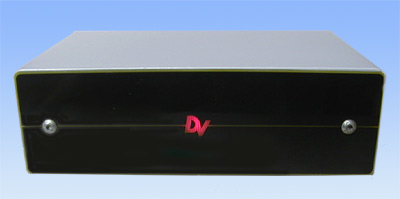 Soundscape Price: Call
Including Domestic Freight
The P-75 also includes the patent P E (phono enhancing) circuit designed by Dr Tominari to dramatically improve the performance of low output moving coil cartridges. By a simple arrangement of jumper settings all conventional, MM, MI, high and low output cartridges are catered for.
The P-75 also has an advanced power supply that operates from a conventional 12V AC to DC adaptor. This adaptor has absolutely no bearing on the sound quality.
The P-75 power supply runs at over 1/4MHz. It takes the low grade single voltage DC supply from the ac adapter and converts it to the dual high voltages required for true professional quality audio reproduction. The operating frequency is over 12 times higher than the top of the audio band and it incorporates super low noise wideband regulators in its output stage to give ultra low noise supply rails. The internal P-75 power supply is totally self contained and stores many times the maximum possible energy requirements for the phono amplifiers. This means that the quality or size of the external ac adaptor is irrelevant. Increasing the capacity of the external supply will make no difference to the quality of the sound.
Like all Dynavector products the P-75 whilst innovative carries on our proud tradition of faithfulness to the heritage of phonographic recordings, exhibiting clear, full-bodied, distortion free sound that analog enthusiasts require.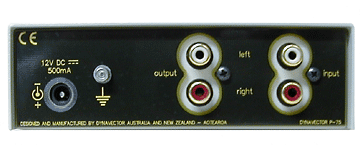 Features
Suitable for all conventional stereo cartridges.
User friendly adjustments.
No soldering or extra components required.
Patented Dynavector Phono Enhancing circuit.
Unique ultra low noise power supply.
SPECIFICATIONS
The P-75 is a stand-alone phono to line level amplifier. It can operate with the following cartridge types:

Cartridge Type

Input Sensitivity

Gain

Loading

Low output MC Standard phono stage

0.2mV or 0.15mV

60 & 63dB

30, 100, 470 ohms

Low output MC Phono Enhancer*

-

-

Zero ohms

High output MC MM, MI

2mV

40dB

47k (47,000) ohms

Dimensions ( W x D x H )

133W x 83D x 44H mm Weight 400g

Weight

400g

*Input sensitivity and gain is determined mainly by the cartridge internal resistance. Three resistance/gain adjustments available.
Moving Coil Cartridge
Advanced Design Tone arm
---

---
We accept



over the phone or by E-mail.
---
ORDERING ONLINE
click here!
ORDERING BY PHONE
If there is no authorized dealer in your area you can order directly from Soundscape with a 10-day, satisfaction, money-back guarantee.
(707) 578-4434
Monday - Friday 12:00 AM - 5:00 PM (PST)
---
Last Update: November 3, 2016


Audio & Video
8499 Old Redwood Dr.#206, Windsor, CA 95492
Phone 707- 578-4434
:marc@soundscapeav.com



E-mail Soundscape