Soundscape Product Information
---


CHIEF brings art & technology together in the form of quality,
custom designed frames for decorating flat-panel TVs.
Now you can have your Plasma monitor or LCD display look like a piece of art, without loosing your remote control capability!
DFM Optical Mirror Kit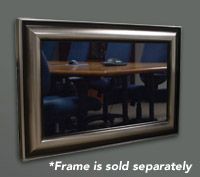 Chief's Optical Mirror Kits can be integrated with decorative frame products to create truly unique and attractive wall furniture to hide your TV. The one-way mirror is designed to allow over 95% of light to pass through when the TV is on and completely hide the TV when not in use. The mirror quickly installs into an existing frame (sold separately).
Frame Colors

Gold Fram

Silver Frame

Dark Frame

Black Frame
Pricing

Frame

Add for Mirror

Size

Retail

Size

Retail

32"

$799*

32"

$1,448*

42"

$899*

42"

$1,898*

50"

$999*

50"

$2,348*
*Add $50 for domestic freight.
PLEASE CALL FOR SPECIAL PRICING!
---
About Chief Manufacturing
"Ideas Supporting Ideas" is the motivational theme behind Chief Manufacturing's continued effort to be the leader in new product innovation and customer service. Chief celebrates its 25th Anniversary this year as an industry leader in manufacturing total support solutions for presentation systems. Chief's commitment to responding to growing industry needs is evident through a full line of mounts, lifts and accessories for LCD/DLP™/CRT projectors and flat panel displays utilizing plasma and LCD technologies.
History and Name Recognition
Chief is known for producing the original Roll, Pitch and Yaw adjustments in 1978 to make projector registration quick and easy. Today, Chief continues to provide innovative mount features, including the first-ever seismic-rated wall mounts for large flat panel displays. Chief is recognized in the Pro A/V industry for delivering not only quality products, but knowledgeable, helpful Customer Service. Location Chief products are designed and manufactured in Chief's main headquarters located in Minnesota. Chief's sales offices, located in Minnesota and Europe, support a global network spanning Europe, the Pacific Rim, the Americas and beyond. Distribution centers are located in Savage, Minnesota and Amsterdam, The Netherlands.
Product Distribution
Chief sells mounting solutions through a worldwide network of Pro A/V and Home Theater dealers. Chief dealers service a broad spectrum of market installations, including: corporate offices, training facilities, home theaters, educational facilities, digital signage and information displays, entertainment and hospitality venues and trade show exhibits.
DFK Decorative Frames
DFK Decorative Frames Integrate your flat panel TV into any décor with a new line of designer frames from the industry-leader in mounting solutions.
These frames are designed to fit most flat panel TVs and displays, and provide that finishing touch when aesthetics are important. The TV blends seamlessly into any room environment, and becomes a work of art when coupled with the optional Optical Mirror Kit.
SPECIFICATIONS
Color: Available in Black, Silver, Gold and Dark Pecan
Dimensions (HxWxD):
32": 27.25" x 39.5" x 4.25" (69.22 x 100.3 x 10.8 cm)
42": 32" x 48.25" x 4.25" (81.28 x 122.6 x 10.8 cm)
50": 36" x 55" x 4.25" (91.44 x 139.7 x 10.8 cm)
DFM Optical Mirror Kit
Fast installation with spacer guide system.
Includes IR kit for easy integration with existing remote control
Custom padding protects the flat panel bezel
Constructed with high quality pine
Adjustable to fit most bezels within the specified size range
Available in four sharp colors to match any décor
Includes safety straps to secure frame to flat panel
Install Instructions - Assembly Simply measure the bezel dimensions of your flat panel display or TV with Chief's Flat Panel
Determine if you would like the Optical Mirror Kit with your frame. Choose the color that best suits your installation.
Q&A
Q. How do I know if my flat panel display or TV is compatible with the frame? A. Chief has created a Flat Panel Compatibility Guide that can be found on the website at www.chiefmfg.com or call customer service at 1-800-582-6480 and Cheif will be happy to email or fax a copy.
Q. What type of material is the frame? A. Each frame is constructed using high quality, solid Pine hardwood.
Q. Do I need to order the Optical Mirror Kit? A. No. The frame itself will create a clean, unique look by covering the bezel of the flat panel. If you prefer a true mirror look the optical mirror kit can also be used.
Call for Quote!

---

We accept



over the phone or by E-mail.
---
---
ORDERING ONLINE
click here!
ORDERING BY PHONE
If there is no authorized dealer in your area you can order directly from Soundscape..
(707) 337-3355
Monday - Friday 12:00 AM - 5:00 PM (PST)
---
Last Update: April 18, 2019
---


Audio & Video
4340 Secretariat Way, Roseville, CA 95747
Phone 707- 337-3355
:marc@soundscapeav.com



E-mail Soundscape